About Ph.D Course: Here you can find the info about PhD Course Details such as Definition, skills required for Doctor of Philosophy Course, Ph.D Eligibility Criteria, Duration of the course, Fee, Syllabus, Subjects, PhD Colleges, Job Types, etc. Read below information to find out more details about Ph.D Course.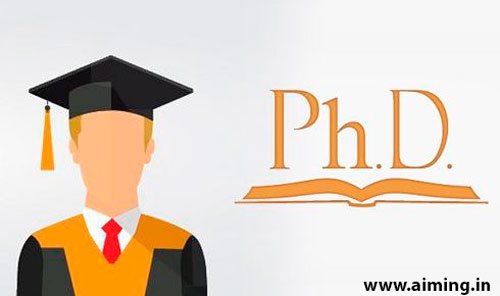 Definition of PhD:
Doctor of Philosophy is abbreviation of Ph.D. or D.Phil. It is a type of doctorate degree awarded by universities in many countries. PhD is a Latin term which stands for 'Philosophiae Doctor' it means 'Teacher in love of Wisdom'. Ph.D is awarded for a wide range of programs in the sciences, engineering, and humanities, among others.
PhD Course structure
Indian PhDs operate within a familiar 3-tiered system, commencing with an undergraduate Bachelor's degree, followed by postgraduate Masters and PhD degrees. The academic year usually commences in the months of July or August, but admission to a PhD Course may be more flexible.
There are three stages of admission to the doctoral program:
Admission to graduate study when the student first matriculates
Admission to doctoral study following successful completion of the preliminary exam
Admission to candidacy following successful completion of the comprehensive exam and approval of the dissertation proposal.
Doctor of Philosophy Subjects
Subject vary in accordance with one's Chosen field of specialization
Some of the Doctor of Philosophy Specializations are
Doctor of Philosophy (Ph.D) in Physics
Doctor of Philosophy (Ph.D) in Mathematics
Doctor of Philosophy (Ph.D) in Finance and Economics
Doctor of Philosophy (Ph.D) in Psychology
Fees for PhD Course
Fees at Indian universities are very variable, but often surprisingly cheap.
See: Demand Draft (DD) Details
Eligibility Criteria for Admission:
In order to apply for the PhD Courses, candidate must have an M.Tech/ME in any branch of engineering.
An MCA degree is considered equivalent to the BTech/BE degree and is not normally sufficient for admission.
Duration of Programme
Ph.D Programme Duration is Minimum of 5 years. The first 2 years of course work is towards an M.Sc. degree, followed by research work of a minimum of 3 years towards the Ph.D. degee.
Universities which offer PhD Programmes in India
JNU.
Delhi University.
Assam university silchar (Assam).
Chaudhary charan singh, Haryana agriculture university, Hissar (Haryana).
Goa University: faculty of science, Taleigao plateuo (Goa).
Gujarat University: faculty of science, ahmdabad (Gujarat).
Guru nanak dev university, Amritsar (Punjab).
Click Here for Doctorate (PhD) Degree Average Salaries, Jobs info
Doctor of Philosophy Employment Areas
Educational Institutes
Magazines
Law Firms
Consultancy
Research Institutes
Philosophical Journals
Newspapers
Publishing Houses
Human Services Industry
Doctor of Philosophy Job Types
As one of the highest degrees in the field of education, there are several jobs available with a Doctor of Philosophy
Lecturer and Professor
Human Service Worker
Novelist and Writer
Independent Consultant
Researcher and Scientist
Philosophical Journalist
Journalist Editor and Critic