Here are the Information About MCA Course which including Full Form of M.C.A, Duration, Eligibility Criteria, Admission Criteria, Fees Structure, Syllabus PDF, Requirements, Benefits, Job Opportunities, Salary, etc.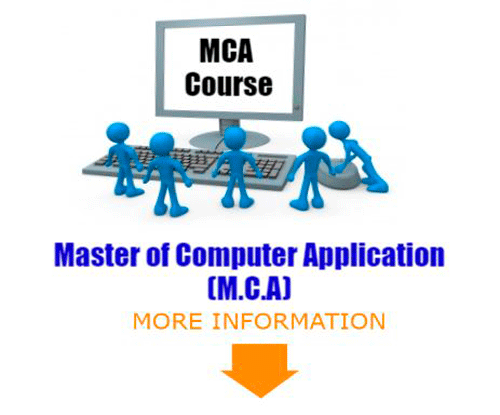 About MCA Course
The Full Form of MCA is Master of Computer Application. MCA course is a post-graduate program was designed to meet the growing demand for qualified professionals in the field of Information Technology. BCA qualified candidates more preferably opt for this Master of Computer Application course. MCA course can be said to be an advanced and more detailed version of BCA course. MCA course is very popular after Computer Science in engineering. MCA graduates are also called as software engineers.  In this article, you will be able to find information About MCA Course such as eligibility criteria, important subjects, scope and job opportunities.
Eligibility Criteria:
Degree in Engineering / Technology / Commerce / Banking / Business Administration / Computer Application / Science with Mathematics as one of the subjects.
Any degree with a PG Diploma in Computer Science / Computer Application of
minimum of 1-year duration of recognized University.
Any degree with Mathematics at +2 level
Requirements for MCA Lateral Entry
Any degree with a Post Graduate Diploma in Computer Science / Computer Application (PGDCA) of minimum of 1-year duration of a recognized University.
Duration of MCA Course
MCA is a 3 years professional Master's Degree in computer science awarded in India. The three-year course has a 6 semester and each semester lasts for 6 months (generally). During the first 4 semester students are general practices mostly in theoretical ways. In the remaining last 2 semester usually focusing on practical by completing the given specific project works.
M.C.A Course Fee Structure
The fees structure for MCA Course may vary from colleges to colleges and it is depending upon the facilities they are providing to their students. Private colleges have more fees than Government colleges.
See: Demand Draft (DD) Details
MCA Syllabus/Topics
FIRST YEAR – FIRST SEMESTER
Computer Organization & Architecture
Programming in C
Software Engineering
Multimedia Systems
Soft Skill – I
LAB – I Programming In C Lab
LAB – II Flash & Photoshop Lab
LAB – III Productivity Software Lab
FIRST YEAR – SECOND SEMESTER
Microprocessor Based System Design
Object Oriented Concepts and Data Structures
Programming in C++
Business Mathematics
Soft Skill – II *
LAB – IV Microprocessor Lab
LAB – V C++ LAB
LAB – VI Visual Basic Lab
SECOND YEAR – THIRD SEMESTER
Operating System & UNIX
Web Technology
Programming in Java
Financial and Management Accounting
Elective I
-Foundation Course Elective
-Personality Development
LAB – VII JAVA LAB
LAB – VIII OS LAB
LAB – IX WEB TECHNOLOGY LAB
SECOND YEAR – FOURTH SEMESTER
Computer Networks
Software Testing & Quality Assurance
Computer Graphics
Elective II

Network Security
Mobile Computing

Elective III

Management Information Systtem
Organizational Behaviour

Personality Development
Lab – X Software Development Lab
Lab –XI Dbms Lab
Lab – IX Graphics Lab
THIRD YEAR – FIFTH SEMESTER
Relational Database Systems
Introduction to PHP, MYSQL
.NET Technology
Data Warehousing and Data Mining
ELECTIVE IV – Business Intelligence
LAB – XIII RDBMS, PHP LAB
LAB – XIV .NET LAB
XV – MINI PROJECT
THIRD YEAR – SIXTH SEMESTER
Admission in Master of Computer Applications
Following are the common ways of admission in MCA program
Direct Admission- Direct admissions are done on the basis of merit in qualifying exam. Some institutes also provide admission on management quota
Entrance Test- After taking entrance exam qualified students are called for counselling. Counselling is conducted for seat allotment in various colleges under that university. Admission is done after allotment of seat.
Entrance Exams for MCA Admissions
There are several state level or university level entrance exams for admissions.
IPUCET – Indraprastha University Common Entrance Test
TANCET –  Tamil Nadu Common Entrance Test
NIMCET – NIT MCA Common Entrance Test
BIT MCA Entrance Test – Birla Institute of Technology
WBJEE- West Bengal Joint Entrance Examination
UPSEE- Uttar Pradesh State Entrance Exam
ICET – Integrated Common Entrance Test
Click Here for Top MCA Colleges In India 
Job Prospects
After MCA, job opportunities exist in Government as well as Private sector. Along with self employment options are available too. After MCA candidates can work for any IT company big or small as a system developer and various other roles such as :
Software Programmer
Software Engineer
Software Developer
Systems Analyst
Software Application Architect
Software Consultant
List of Companies
Top companies hiring MCA graduates are Accenture, Infosys, Wipro, TCS, [email protected], Cognizant, IBM, American Express, HCL, HP, Syntel etc.
Salary Details
Starting salary is generally around 20k – 30k per month. This figure depends a lot on the profile of the Employer, Employee as well as the Organization.
MCA Program Benefits
Before you choose any course to make your career, it is necessary to know about the benefits. The MCA Course Benefits are
MCA will help you as it would give you masters degree and knowledge in the IT sector.
After completing your MCA course you can think of getting placed in Software Field.
Your salary is also more for MCA candidates compare to BCA graduate.
What Next After MCA?
This is another common question I received from the regular visitors. Most of them asked me about What to do after MCA. I will try to answer this question. After MCA if you don't have a job offer in hand you just go for some course to do, I strongly suggest you apply for SAP Certification Course wherever possible.