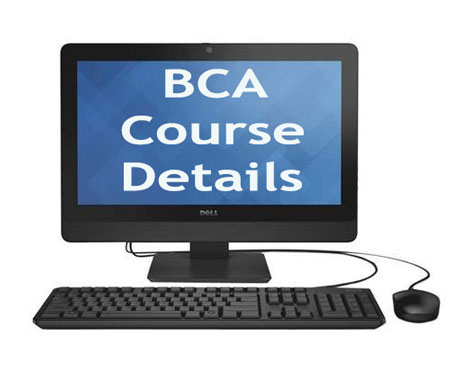 The Full form of B.C.A is Bachelors of Computer Applications. BCA is one of the popular courses among the students who want to make their career in the IT (Information Technology) field. In this B C A Course you will learn the Binary, C, C++, .Net, PHP, Vb , JAVA, data communications, computer networks, Artificial Intelligence, Computer Graphics and other non-technical related subjects too.
BCA Course Curriculum – Syllabus Topics
1st Year 
Mathematics
Technical Communication
Intorduction to Programming language using C
Communication Skills
Principles of Management
Digital Electronics
Data structure using C
Database Management System
Cyber ethics
Business Accounting
2nd Year 
Mathematics
Computer Architecture
Front end design tool

VB.NET Shop

Object Oriented Programming using C++.
RDBMS
Web Technologies
Java Programming
Computer Networks
Inventory Management(SAD)
Software Engineering
3rd Year 
Operating Systems
Computer Graphics
E-Commerce
Software testing
Microprocessor
Advance computer networks
Business Economics
.NET Frameworks
Internet Programming and Cyber Law
Multimedia Systems
Introduction to SysPro And Operating Systems
Project
Duration of Course
BCA is 3 year graduation degree course generally for those students who wants to learn Computer languages
Eligibility Criteria
Anyone who have passed the 12th class minimum of 55% marks can join the BCA Course. and there is no compulsion of having Physics,Chemistry and Maths subject in 10+2 class. Even Arts and Commerce students can also join Bachelors of Computer Applications Course.
Fees Structure
The fee structure may vary from 10000 to 1 lakh based on the institution you want to choose. Along with the regular fees other costs may also there like the entrance examination fees etc.
See: Demand Draft (DD) Details
Future Scope
Individuals can go for the job in software companies like Info-sys, TCS, Google, Tech-Mehendra, Patni, WIPRO and some others software fields.
You may also do MCA or MBA course depending on there interest. But we highly recommend to do MCA after the BCA Course as it adds more value to your Curriculum Vitae (CV).
BCA Job Roles:
After completing the B C A Course individuals can join in the IT companies for the following job roles.
Finance Manager
Computer Manager
Data Base Manager
S/w Developer
System Administer
Information System Manager
Salary Details
Salary for BCA completed students may vary based on his/her talent, Institution they studied the course and other factors.
At initial stage one can get minimum of Rs 8000/- after doing the BCA course. After having 2 or more years experience you may get up to Rs 30,000/- to Rs 40,000/-.
Top 10 BCA Colleges In India
Christ University, Bangalore
SRM University, Chennai
IMS-Institute of Management  Studies, G.Noida
Madras Christian College, Chennai
Symbiosis Institute, Maharashtra
Birla  Institute  of Technology, Ranchi
Presidency  College, Karnataka
Kurukshetra University, Kurukshetra
Maris Stella  College, Chennai
Xavier  Institute, Ahmedabad
Advance Course in B.C.A
What Next After BCA?
This is another common question I received from the regular visitors. Most of them asked me about What to do after BCA. I will try to answer this question. After BCA if you don't have a job offer in hand you just go for some course to do, I strongly suggest you apply for SAP Certification Course or MCA Course wherever possible. Both two options considerable. 
Also Read