The full form of D.T.P is Desk Top Publishing. D T P Course refers to the design and production of publications using personal computers with graphics capability. Desktop publishing is the creation of document using page layout skills on a Computer system. Below we have provided complete info about D.T.P Course – Full Form, Fee, Duration, Requirements, DTP Training Institutes, etc.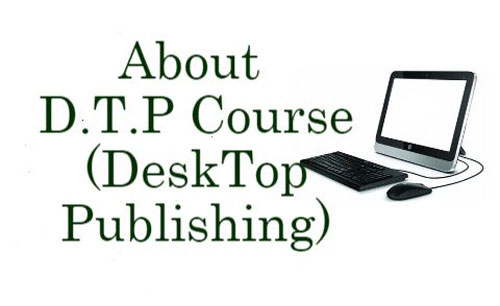 About DTP Course
The D T P Program is focusing on the various designing techniques and effects for the printing industry. Candidates who complete this course can start their own designing firm catering to project works such as Brochure Designing, Visiting Cards, Banners, Flyers, Magazines and Newsletters etc. Individuals also has an option to appear for Government recognized examination.
D.T.P Course Contents:
Module 1: Introduction to Computers
Module 2: Windows
Module 3: CorelDraw
Module 4: Photoshop
Module 5: PageMaker
Module 6: Assignments & Projects
Course Duration is One year.
Requirements
Candidate require a high school diploma or General Education Development (GED) equivalent for admission. Applicants may have to pass a computer proficiency exam or a basic computing class prior to enrollment.
Course Fee (Per semester – Six months)
The DTP fee structure depends on the institute in which student want to take admission. Fee for the course varies with college/institute. The approximate fee required for the Desk Top Publishing course is Rs 16,700/-
See: Demand Draft (DD) Details
Trainee Exit Level:
On completion of DTP Course, the trainees are expected to be able to
Handle and operate Personal Computers & Printers independently;
Estimating the costing of the job to be composed
To execute all the key board commands, editing and to operate the DTP unit
Desk Top Publishing operators are in great demand. Companies specializing in advertising, visualization, publishing and designing are constantly hiring DTP operators. Various private and public organizations also need Desktop Publishing operators for their designing, publishing and documentation needs.
Also Read:
DCA Course, PGDCA Course, Tally Course, ITI Course, SAP Course, YMCA Course