It is a post graduate diploma level course. The full form of pgdca course is post graduate diploma in computer applications. It boosts the career in the computer based jobs. P.G.D.C.A course will prepare a person as an assistant programmer or as a computer operator. See the clarifications to the common doubts coming for the students who are searching for PGDCA course details in different institutions like IGNOU (Indira Gandhi National Open University).
FULL FORM: Post Graduate Diploma in Computer Applications.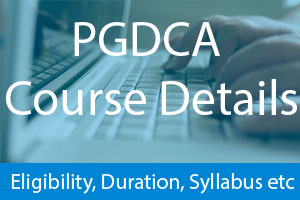 PGDCA Course Eligibility
The qualification of the course is graduation; many universities also require a good percentage in the graduation. PGDCA course from IGNOU will also require graduation to be completed. Also see: AMIE Course Details, SAP Course Details
PGDCA Course Details of Duration
Many universities offer this course in 2 semesters. The maximum duration of pgdca course will range up to 2 years from a minimum of 1-year duration.
PGDCA Syllabus
The syllabus of the pgdca course may vary by the university to university. Most of the institutes will have the following subjects in their curriculum. The subjects commonly found on the course at most of the universities are
C programming
Computer architecture and organization
ICT tools
OB and management process
OOPS
Data management systems
Operating systems
Soft skills development and project.
Jobs
A person who completed the course can be expected to get a job on the following roles.
Computer operator
Support lead
Administrator of application packaging
Network systems analyst
Database administrator etc.
Fees:
The fees of the PGDCA course depend on the institute and may have up to 12000 rupees per semester. If you want to join in the top institutions you may have to beat tough competition.
See: Demand Draft (DD) Details
PGDCA from IGNOU:
Indira Gandhi national university offers the PGDCA course. The details of the course are as follows.
The duration of the course is 12 months and a number of subjects are 10. The course is offered on a semester basis and has 2 semesters.
Also See: Computer Courses after 12th,