Indira Gandhi National Open University (IGNOU) is the Open University or Distance Learning National University located in New Delhi which is established in 1985 with a view to serve the Indian population by means of distance education particularly the disadvantaged segments of the society.
It acts as a natural resource to promote and maintain standards of distance education in India and also aims to encourage, coordinate and set standards for distance or open education in India and also to strengthen human resources in India through education. Let's look down for the history of establishment of IGNOU.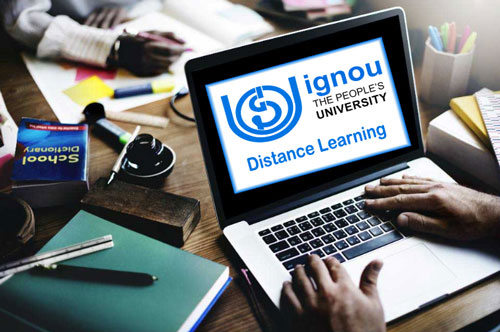 Indira Gandhi National Open University (IGNOU) History
The Union Government made a decision to establish a national Open University and the committee was formed by Ministry of Education to implement the plan of establishing of National Open University. On the basis of the report of the committee, Union Government introduced the Indira Gandhi National Open University Act, 1985 Bill in Parliament and both the Houses of Parliament passed the Bill. And finally, Indira Gandhi National Open University came into existence on September 20, 1985 with the budget of Rs.20 million.  IGNOU started its decentralization process in north, south, east, west and north east zones. The first regional quarters are catered to four southern states like Pondicherry, Andaman & Nicobar and Lakshadweep and set up in outskirts of Thiruvananthapuram, Kerala.
IGNOU Network
IGNOU is run by Central Government of India with over 4 million of students and is said to be largest university in the world. The network of IGNOU is very wide with 67 regional centers, 2670 study centers and 30 overseas centers.
IGNOU Courses
Indira Gandhi National Open University offers 300 academic programs comprising of certificate, degree, diploma, post-graduation courses and doctoral courses. Some of the courses offered at different levels are as follows:
Bachelor's Degree Courses
There are 15 bachelor or under-graduate courses offered in IGNOU with various specializations. Some of them include Bachelor of Computer Applications (BCA). Bachelor of Commerce (B.Com), Bachelor of Sciences (B.Sc.), Bachelor of Education (B.Ed.) and Bachelor of Arts (B.Ed.) etc.
Post – Graduation Courses
IGNOU offers 40 post-graduation courses with different specialization and with different combinations. The post-graduation courses comprises of Master of Arts (MA), Master of Business Administration (MBA), Master of Science Courses (M.Sc.), Master of Commerce (M.Com), Master of Computer Applications (MCA), Master of Library & Information Science etc.
There are 50 certificate courses offered by IGNOU with different specializations which include general aspects of the society like Certifications in Consumer Protection, Disaster Management, Environmental Studies, Health care Management, Nutrition & Childcare, Tourism Studies, Social Work & Criminal Justice System, Agriculture & Poultry Farming, Visual Arts & Foreign Languages etc.
Doctoral Courses offered by IGNOU includes Doctor of Philosophy in performing Visual Arts, Fine Arts & Music, Law, Geology, Economics & Commerce, Computer Sciences, Life Sciences, Management, Medicine and Psychology etc.
Diploma courses in IGNOU includes Diploma in Aquaculture, Dairy Technology, Nursing Administration, Watershed Management, Women's Empowerment & Development and Paralegal Practice etc.
IGNOU Admission Process
Candidate who seek admission in IGNOU will be admitted after the original document's verification during counselling. If anyone fail to produce the original documents during counselling are not eligible for admission. Candidates should report in the allotted institution within a given period of time to confirm their admission. The candidates need to produce some essential documents along with original copies. The documents which are required to produce during admission process are as follows:
Graduation /Post-graduation Marks sheet & Passing Certificate (if necessary)
High School Marks list & Passing Certificate
10+2 Marks sheet & Passing Certificate
Photocopy of Application Form
Entrance Exam Admit Card
Two passport size photos
Category Certificate
Who can apply in IGNOU?
The candidates who are willing to pursue their higher studies and not able to pursue in full-time due to some personal reasons or some other reasons can opt for this distance learning education who include employed candidates, housewives, students who cannot pursue their studies in regular mode are eligible to pursue their studies through distance education mode in IGNOU.
Entrance Exams
IGNOU announces or publishes notifications for entrance exams for admissions into degree or master degrees is called OPENMAT. The candidates who seek admission into this open university can go through the notifications and get registered for attaining admission in the university either online or offline modes. Candidates should go through the notification carefully that is given in official website www.ignou.ac.in, fill the details and submit the application within the given date and so on.
Entrance Exam Patterns
The OPENMAT exam pattern consists of General Awareness, Quantitative Aptitude, English Language and Reasoning and the candidates who qualify in the entrance test are eligible for admission into IGNOU. The university provides study materials for entrance exams and other exams either by pdf format or online. Candidates can download the study materials and can prepare for the exams well.
Result Publications
IGNOU publishes the results of the students with a restricted time duration every time. It announces results exactly 45 days (unless 1 month) after the completion of the exam.