Introduction: P.G.D.C.A stands for Post Graduate Diploma in Computer Applications Course. PGDCA is master level course related to computer applications. The Key objective of the P G D C A Course is to develop system programmers and analysts, to meet the growing needs of IT industry. The PGDCA Program includes: Computer Languages such as C, C++, JAVA, Packages such as MS Office-Web Design, Oracle, MS Dos-Windows as OS – System Analysis & Data Processing, etc.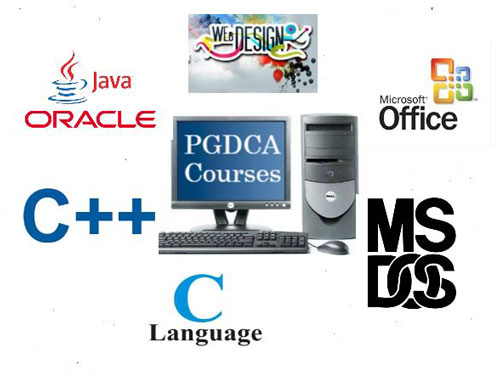 Eligibility Criteria for Admission
Graduates or diploma holders can seek admission to the course on the basis of their Merit marks of Past Academic Performance.
Fee Structure
The PGDCA fee structure depends on the institute in which student want to take admission. Fee for the course varies with college/institute. Now here we are providing the approximate fee required for the PGDCA course.
| | | |
| --- | --- | --- |
| PGDCA Fee | 1st Semester | 2nd Semester |
| Tuition Fees | Rs. 7500/- | Rs. 7500/- |
| Laboratory Fee | Rs. 1000/- | Rs. 1000/- |
| General Fee | Rs. 1915/- | Rs. 575/- |
| Total Fee | Rs. 12915/- | Rs. 9075/- |
See: Demand Draft (DD) Details
PGDCA Course Duration
Duration of the course is 1 year. Certain institutes offer the course in 2 semesters. Concepts of programming language, Fundamentals of Information Technology, C Programming, Visual Basic Programming, Java Programming, Database Management System, Software Engineering and Business Process, System Analysis and Design, Data Structure and Algorithms, Web programming, etc are covered under the course curriculum.
List of Top PGDCA Institutes in India (South, North, Western, Eastern)
Centre for Continuing Education Kerala
N M A M Institute of Technology, Visvesvaraya Technological University
KSAVRC, University Of Kerala
Lal Bahadur Shastri Centre For Science And Technology, University Of Kerala
St. Peters College, University Of Kerala
St Marys Syrian College, University Of Karnataka
Nallamuthu Gounder Mahalingam College, Anna University
Vysya College, Periyar University
CASET College of Computer Sciences and Engineering, Kashmir University
Mahatma Gandhi Memorial College, University Of Karnataka
Postal Training Centre, Anna University and Madurai Kamaraj University
Sourashtra College, Madurai Kamaraj University
Nehru Arts & Science College, Kannur University
S S V Post Graduate College (SSVPGC), Acharya Nagarjuna University
Rakshpal Bahadur Teachers Training Institute, Maharshi Dayanand University
Academy of Computer Learning, Maharshi Dayanand University
Aggarwal PG College, Maharshi Dayanand University
Lal Bahadur Shastri PG College, Rajasthan University
Indore School of Social Work (ISSW) Vikram University
Academy Of Management Studies, Uttaranchal Open University
Shree Sant Muktabai Institute Of Technology (SMIT), North Maharashtra University
Management Development Institute (MDI), University of Tampere
Acedemy of Kanishka Computers
Guru Nanak College, Punjab University
Sarojini Naidu College for Women, Kolkata, University of Calcutta
Dipras Institute of Professional Studies (DIPS), University of Calcutta
Sri Sathya Sai College for Women, Barkatullah Vishwavidyalaya
I M S I India Pvt Ltd, Georgetown University
Job Details
After completing this PostGraduateDiplomaInComputerApplications Course through this institutions you will get jobs in these companies.
GENPACK LTD, LG, JINDAL INFOTECH, TCS, MAHINDRA TECH, SIEMENS, 2COMS LTD, HOTMAIL, COCA COLA INDIA, BHARAT SHIPYARD LTD, RELAINACE INFOTECH, ORACLE SOFTWARE DEVELOPMENT, WIPRO, HP, SAMSUNG, etc