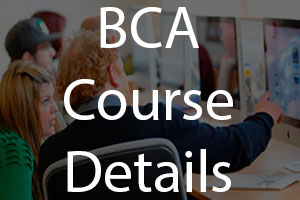 BCA Course Details: The Bachelor in Computer Application is the full of B.C.A course. It is an undergraduate Information Technology course. BCA is 3 year graduation degree course. Generally the rapid growth of IT industry in India, the demand of computer professional is increasing day by day. This course provides a lot of opportunities to the  students who are interested in computer field and those who wants to work in in the It sector as  software programmer & developer. The duration of a bachelor in computer application is three years and divided into a six semesters .people those who are interested through distance education by many colleges. After completion of BCA Course they can go for MCA for higher studies.
BCA Course Eligibility Criteria – BCA Course Details:
BCA admission eligibility criteria is not same for all the institutions. Most of the institutes will expect the following requirements from the candidate. If you want to know the exact requirements of the university you are joining then visit the university website and see complete eligibility details for that university.
BCA requires, must have passed class 10+2 in any stream(or) SSC with at least  55% marks
As per results in GD/PI
Some institutions /Universities based on their student merit basis
Student has minimum age limit is 17 years to 25 years
BCA Specializations:
Programming Language
Database Management
Systems Analysis
Personal  Information Management
Animation
Word Processing
Internet Technologies
Accounting Applications
BCA Course Details of Admission Procedure:
The applicant who want to get into  prestigious Universities  under  this course  have to appear for an entrance examination .The Academic qualifications required are the grades secured by the candidates in their Higher Secondary Examination.The Academic qualifications needed are final scores secured by the candidates in their higher secondary examination.
Top Ten BCA Colleges In India
The following are some of the best bca colleges in India. These best colleges for BCA are listed on the following table along with their location and college website
| | | | |
| --- | --- | --- | --- |
| Rank | Name of the College | City/state | College Website |
|  1 | Christ University | Bangalore | https://www.christuniversity.in/sciences/computer-science/bachelor-of-computer-applications-(bca) |
|  2 | SRM University | Chennai | https://www.univariety.com/app/course/Career/IN/SRM-University-Kattankulathur/Computer-Science-Application/Bachelor-of-Computer-Applications-BCA/dc61b1ce |
|  3 | IMS-Institute of Management  Studies |  G.Noida | https://imsnoida.in/bca/ |
|  4 | Madras Christian College |  Chennai | https://www.mcc.edu.in/index.php?option=com_content&view=article&id=126&Itemid=116 |
|  5 | Symbiosis Institute |  Maharashtra | sicsr.ac.in/ |
|  6 | Birla  Institute  of Technology |  Ranchi | https://www.bitmesra.ac.in/cms.aspx?this=1&mid=1378&cid=1049 |
|  7 |  Presidency  College |  Karnataka | https://presidencycollege.ac.in/courses/bca/ |
|  8 | Kurukshetra University | Kurukshetra | https://www.kuk.ac.in/information.php?direction=Vertical&L01_id=MTQ=&L01_direction=H&L02_id=ODY=&sublevel=y&page=3 |
|  9 | Maris Stella  College |  Chennai | https://stellamariscollege.org/department_details.php?dept_id=75&dept_name=Computer%20Science |
|  10 |  Xavier  Institute | Ahmedabad | www.xica.edu.in |
BCA Job Roles:
After completing the course a candidate can join in the IT companies for the following job roles. Salary for BCA completed students may vary based on his/her talent, Institution they studied the course and other factors.
Finance Manager
Computer Manager
Data Base Manager
S/w Developer
System Administer
Information System Manager
BCA Scope and Salary:
The field of Information Technology is one of the highest paid jobs in the world and the number of IT companies are increasing day by day indicating a huge BCA scope in future. The BCA Salary per month depends  on the experience or skills the candidate shows in his work. BCA Salary package for freshers may vary from 25k to 40k depending on the company and the candidate's IT knowledge.
BCA Course Syllabus
The syllabus of the BCA course may vary based on the institutions/universities offering the BCA course. BCA Details syllabus of a particular college or university can be found on the respected university or college website.
Bachelor In Computer Application Course Fees Structure
The BCA course fees may vary from 10000 to 1 lakh based on the institution you want to study. Along with the regular fees other costs may also there like the entrance examination fees etc.
What Next After BCA?
This is another common question I received from the regular visitors. Most of them asked me about What to do after BCA. I will try to answer this question. After BCA if you don't have a job offer in hand you just go for some course to do, I strongly suggest you apply for SAP Certification Course or MCA Course wherever possible. Both two options considerable.