Here are the Information About D.C.A Course which including Full Form of DCA, Duration, Eligibility Criteria, Admission Criteria, Fees Structure and Syllabus PDF.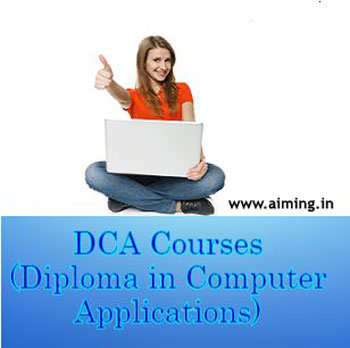 About DCA Course:
The full form of D.C.A. is Diploma in Computer Applications. This DCA Course is designed to build a strong foundation in programming, using object-oriented programming languages like Java and C#. It helps to develop skills in web page designing using HTML and JavaScript. In DCA you will learn about the basics of the computer and the IT fields. After that you can pursue your PGDCA programme.
Eligibility Criteria
The eligibility for doing Diploma in Computer Applications Course is 10+2. You can do this DCA Course from various universities both through correspondence and regular
DCA Course Content
Introduction to Computer
Windows
MS Word
MS Excel
MS PowerPoint
Internet
Introduction to Cloud Computing
Elementary Programming in C
RDBMS and Data Management
Programming with C#
Learn Java & Advanced Java
DCA Course Fee
The fee structure varies with universities, so you can know the fee structure from the institutional official website. For your ease we provide approximate fee info is as follows.
DCA ( Diploma in Computer Application)
Course Duration
06 Months
Registration Fees
Rs.1500/-
Tuition Fees
Rs.2000/-
Exam Fees 
Rs.300/-
Total Course Fees
Rs.(1500+2000+300) = Rs.3800/-
Duration of Course
The Duration of Diploma in Computer Application Course is 6 Months but could be a year depending on the course curriculum and institution.
Syllabus Covers
1st Semester
Fundamentals of Computer
Operating System and Application Program
Programming Language
Practical on C Programming and Application Program
Practical on Application Program
2nd Semester
Data Base Management System
Visual Basics (VB)
Internet and Web Page Designing
Project Work
Career Prospects:

Following are the few fields students can opt at after pursuing this Course
Networking & Internet working
Database Development & Administration
Programming – Development tools, languages
Technical writing
Software design & engineering
Graphic design and animation
Web/ e-commerce development
Salary Details
Salary for Diploma in Computer Application Course completed students may vary based on his/her talent, Institution they studied the course and other factors.
In this field, one can earn initially from Rs 8000/- to Rs 25000/- per month. After having 2 or more years experience you may get up to Rs 30,000/- to Rs 40,000/-