This is the article named as Hospitality Management Courses Details which provides the complete Information about the Course such as Requirements, contents of the Course, Eligibility, Duration, Fee Structure, Syllabus, Top Institutes in Hyderabad, Career, Jobs etc. Read the article completely to know all the details.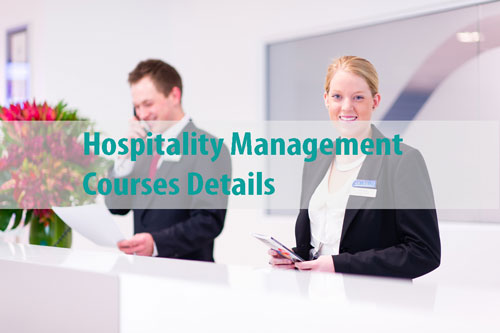 About Hospitality Management:
It is the field of Hospitality. Its task is to create shareholder wealth by servicing and satisfying guests. The segments which include are:  Hotels, Clubs, restaurants, private clubs, managed food service, event planning, Tourism businesses, and travel provider. Due to the Demand in these Field there are many Courses. This article about HM Courses provides all the details. Go through it.
Hospitality Management Courses List:
There are many Courses in Hospitality Management.  Here are the Top 5 Hospitality Courses. They are listed based on various reviews.
BA/BA (Hons) Hotel Management:

Duration: 4 years
Eligibility: 10+2 or its Equivalent
Fee: 70k

BA (Hons) Culinary Arts

Duration: 4 years
Eligibility: 10+2 or its Equivalent
Fee: 70k

Bachelor of Hotel Management(BHM):

Duration: 4 years
Eligibility: 10+2 or its Equivalent with 50%
Fee: 8- 10 lakhs

Systematic Training and Education Programme (STEP)

Duration: 2 years
Eligibility: 10+2 or its Equivalent

Diploma in Hotel Management Catering Technology

Duration: 3 years
Eligibility: 10+2 or its Equivalent

Sc Hospitality and Catering:
Duration: 3 years
 Syllabus: The Contents and Subjects of this Course are:
First Year Subjects

Basic Food production
Food & beverage service-1
Basic housekeeping
Catering science-1
Front office operation-1
Communication skills
Basic accounting
Bakery & confectionery
Principle of management

Second Year Subjects

Quantity food production
Food & beverage operation-1
Hotel house keeping
Hotel engineering Services
Front office operation-2
Computer application
Field work orientation
Industrial training
Hotel accountancy

Third Year Subjects

Specialized Food production
Accommodation operations
Marketing services
Food & beverage management
Food & beverage inventory control
Human resources management
Project report
Environment science
Additional Subjects:
Yoga (Meditation), Swimming, Table Tennis, Personality Development, GD, Spoken English
Short Courses:
Other than the above Courses. There are some Short Courses. Here they are listed. Have a look.
Hospitality Management, Diploma
Hospitality Management – UK, Diploma
Level 4 Certificate in Management for Travel and Tourism, Certificate
Hospitality Management – USA, Diploma
A New Era for Greek Hospitality, Certificate
Hospitality, Tourism and Hotel Management, Advanced Diploma
Hospitality Mini Courses, Certificate
NIHM:
This can be expanded is National institute of Hospitality management. This NIHM offers many Courses. To know more about the NIHM, Go through the link https://www.iihm.co.in/
Top 10 Institutes in Hyderabad:
Here is the list of Top 10 Institutes in Hyderabad. They are listed based upon various Rankings.
Institute of Hotel Management Catering Technology & Applied Nutrition
Regency College Of Hotel Management And Catering Technology
Pinnacle's GREEN FIELDS
CULINARY ACADEMY OF INDIA
Pinnacle Institute of Hotel Management & Catering Technology
Hyderabad Aviation Academy & Hospitality Management
Aptech Avaition & Hospitality Academy
Indian Institute Of Hotel Management & Culinary Arts
IHM Shri Shakti college
NITHM
Pioneer Institute of Hotel Management(PIHM)
Career:  
The job roles offered after Hospitality Management Courses are:
Accommodation manager.
Catering manager.
Event manager.
Fast food restaurant manager.
Hotel manager.
Public house manager.
Restaurant manager
Stay connected with us for more and more updates.