This is the article named Occupational Therapy Courses Details which provides the complete info about the Course such as Requirements, Various Courses, Eligibility, Duration, Fee Structure, Syllabus, BS in Occupational Therapy, Career, and Jobs Roles etc. Read the article completely to get all the information.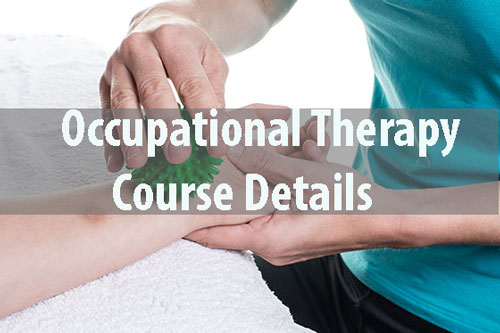 About Occupational Therapy:
Occupational Therapy this is shortly termed as OT.  As per wiki, it is the use of assessment and intervention to develop, recover, or maintain the meaningful activities, or occupations, of individuals, groups, or communities.
It is an allied health profession. Those who perform this profession are called as occupational therapists. OTs often works with people with disabilities, injuries, or impairments.
Types of Occupational Therapy Courses:
There are many Types of courses in Occupational Therapy. All the courses are at different levels.
Diploma Courses
UG Degree Courses
PG Degree Courses
PG Diploma Courses
Diploma Courses: In Diploma there are many Courses. One of the best is:
Diploma in Occupational Therapy (DOT): The Eligibility for this course is 12th with science group as physics, chemistry and biology and the Duration for the course is 3 years.
UG Degree Courses: The courses under UG Courses are here:
Sc in occupational therapy
BOT (Bachelor of Occupational Therapy)
Duration:  The Duration for the course is 4 and half years.
Eligibility:  The Eligibility for the above courses is 12th with the science group as physics, chemistry and biology.
Syllabus: The Subjects that are covered in this Course year wise are specified.
1st year subjects
Human Anatomy
Psychology
Sociology
Physiology
Biochemistry
Introduction to Occupational Therapy
Biomedical Physics
2nd year subjects
Occupational Therapeutics
Occupational therapy
Pathology
Microbiology
Kinesiology
Pharmacology
Biostatistics
3rd year subjects
Occupational Therapeutics
Occupational Therapy
Paediatrics
Medicine
Dermatology
Gynaecology and Obstetrics
Neurosurgery
General Surgery
ENT and Radiology
Plastic Surgery
Cardiothoracic Surgery
 4th year subjects
Orthopaedic Conditions
Neurological Conditions
Psychiatric Conditions
Medical and Surgical Conditions
Rehabilitation
Job Profiles for BOT:
Occupational Therapist
Rehabilitation Specialist
OT Consultant
OT Nurse
Instructor/Teacher
Social Worker
Marketer (supporting equipment/devices)
PG degree courses: There are 2 Types of Courses in PG Degree Courses. They are:
Sc in occupational therapy
MOT (Master of occupational therapy)
Eligibility:  Those who have completed BOT, B.Sc with 55% marks will be Eligible.
Duration: 2 years
Specializations:
Other than the above stated Academic Courses, there are some specializations. They are listed here:
Pediatrics
Community consultation
Assisted living
Industrial rehabilitation
Developmental Conditions
Hand therapy
Vision rehabilitations
Adult rehabilitations
Ergonomics
Driver rehabilitations
Home health
Neurological
Musculoskeletal
Psychiatric
Career:
After the completion of the Courses there are many Jobs offered. Some of the Job Roles are:
Teacher
Consultant
OT technician
Speech and language therapist
Private practitioner
OT nurse
Service delivery manager
Lab technician
OT in-charge
Critical care nursing in charge
Rehabilitation therapy assistant
Occupational therapist
Medical record technician
National sales manager
The areas of the Employment are:
Rehabilitation Centers, Multispecialty Hospitals, Non-Governmental Organization, Teaching to Under & Post Graduates, In Industry for rehabilitation of Inju, Centers for Physically and Mentally Handicapped Children, Schools, Community health centre, Occupational health centre, GP practices / primary care, education establishments, housing associations, industrial and commercial organizations
Salary:
The initial Salary package for the course is $73, 820. This may rise based on experience.
Top Institutes for Occupational Therapy Courses:
Here is the list of Top and best Colleges for Occupational Therapy:
National Institute for the Orthopaedically Handicapped
Deen Dayal Institute for Physically Handicapped
All India Institute of Physical Medicine and Rehabilitation
Seth GS Medical College and KEM Hospital
Christian Medical College, Thorapudi P.O, Vellore (Tamil Nadu)
Manipal College of Allied Health Sciences
Stay connected with us for more and more updates.