Many students are searching for icwa course details. That's why here we are giving full details of the course structure and other information like ICWA full form etc. Institute of Cost and Works Accountants of India is the ICWAI full form.
The course offered by the ICWAI is known as "CWA Course" later name changed into CMA. There are three different stages in the icwai course. The stages are CMA Foundation, intermediate and final. 
Note:- ICWA Course name was changed as CMA course. So dont confuse with that.
| | |
| --- | --- |
| Eligibility | 10+2 |
| How many Stages? | 3 (Foundation, Intermediate & Final) |
| Registration Fees | Rs. 4,000 /- (Foundation Course) |
|  ICWAI Full Form | Institute of Cost and Works Accountants of India |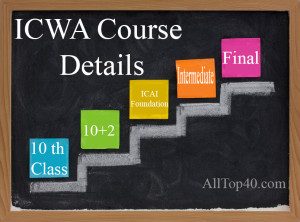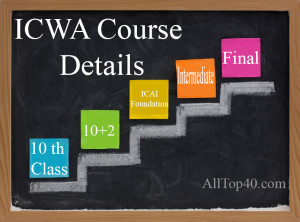 According to the notification released CMA intermediate name Changed to CMA Executive and CMA Final name changed to CMA Professional.
After completion of the 12th class, a candidate can apply for the foundation course. ICWAI has changed its name to The Institute of Cost Accountants of India and also ICWA course name is changed into CMA course.
Full form of CMA is Cost Management Accounting. There is no difference between CMA and ICWAI Course. These two names are describing the same thing. Students searching for CMA course details can find the answer to their doubts from this post.
More About ICWA Course Details
At present ICWA course has been renamed to CMA Course (Cost and Management Accounting). ICWAI, ICWA, CMA is the same Institution. ICWA or CMA Exam is the Post Graduate Entrance Exam which is conducted by Institute of Cost Accounts of India and it is One Year Post Graduate Course. The exam for the entrance is held twice every year in the months of June and December respectively. See all the three stages of icwaCourseDetails. They are Foundation, Intermediate, and Final. See the full icwa course structure in this post.
Note:- Examination is conducted twice a year.
ICWA Course Eligibility

The candidate has to pass 10th class or equivalent from a recognized board.
10+2 from a recognized board or an examination equivalent to 10+2 which is recognized by the central government. Or

diploma in commerce examination

held by all India council of technical education. Also Check Other Courses After 12th Commerce.
ICWA Course Duration After Graduation
Graduate candidates can apply directly for the intermediate course. So foundation course duration is saved for graduate applicants.
Check ICWA Syllabus Here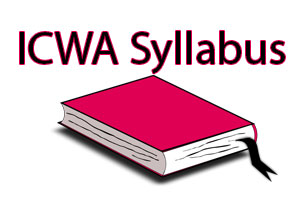 See the subjects of the course below in a stage-wise manner. You can see the Latest changes in the CMA course syllabus at our another post – ICWAI Syllabus 2016 for complete details. Current ICWAI Examinations are conducting on the basis of "ICWAI Syllabus 2012" but there is a change in the ICWAI Syllabus. Notification is released about ICWAI Syllabus change. According to that notification, CMA Inter and CMA Final courses will be called as CMA executive and CMA Professional Courses. Examinations from 2016 will be conducted based on "ICWAI Syllabus 2016".
Quick Remainder:- This course contains 3 stages. Foundation, Inter & Final. Minimum Qualification required is 10+2.
ICWAI Foundation Syllabus (Subjects in Foundation)
Paper 1: Fundamentals of Economics & Management
Paper 2: Fundamentals of Accounting
Paper 3: Fundamentals of Laws & Ethics
Paper 4: Fundamentals of Business Mathematics & Statistics.
ICWAI Intermediate Syllabus (Subjects in Inter)
Paper 5: Financial Accounting
Paper 6: Laws, Ethics & Governance
Paper 7: Direct Taxation
Paper 8: Cost Accounting and Financial Management
Paper 9: Operations Management $ Information Systems
Paper 10: Cost & Management Accountancy
Paper 11: Indirect Taxation
Paper 12: Company Accounts & Audit
ICWAI Final Syllabus (Subjects in Final)
Paper 13: Corporate Laws & Compliance
Paper 14: Advanced Financial Management
Paper 15: Business Strategy & Strategic Cost Management
Paper 16: Tax Management & Practice
Paper 17: Strategic Performance Management
Paper 18: Corporate Financial Reporting
Paper 19: Cost & Management Audit
Paper 20: Financial Analysis and Business Valuation
Also see:
ICWA Course Duration:
Entire course consists of three stages foundation, intermediate and final.
Foundation: Minimum duration of the course is eight months.  
Intermediate: Minimum duration of the course is Ten months.
Final: Minimum duration of the course is Eighteen months.  
Also see: CA Course Details, CS Course Details, CA VS ICWA, ICWAI Syllabus 2016
ICWA Registration Details
See complete details about registration procedure, fee, regional offices and more below.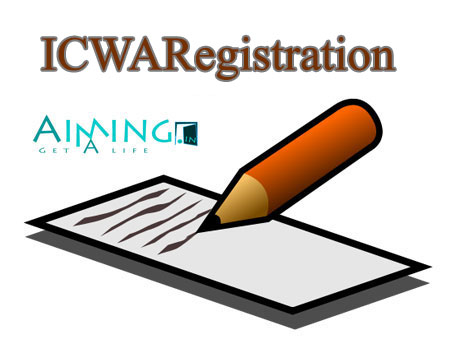 Course
Documents to be enclosed with application form
ICWA Foundation Registration

Matriculation Certificate. (Attested Copy)
10+2 Certificate or Marks Statement. (Attested Copy)
3 Passport size photographs.

ICWA Intermediate Registration

Matriculation Certificate. (Attested Copy)
10+2 Certificate or Marks Statement. (Attested Copy)
Degree. (Attested Copy)
3 Passport size photographs.

ICWA Final Registration

Passport Photo.
Specimen Signature.
Age Proof.
10th Pass Marks sheet.
12th Pass Marks Sheet.
CMA Inter Pass Marks sheet / Certificate.
ICWA Registration Fee Details
Students who registered at least 4 months before the ICWA Registration Last date are eligible to write the examination.
Foundation Course
Eligibility
Passed 10th Class
Fees (Oral)
Rs.4000 /-
Fees (Postal)
Rs.4000 /-
Intermediate Course
Eligibility
Passed Foundation or Graduation
Fees (Oral)
Rs.20000 /-
Fees (Postal)
Rs.20000 /-
Final Course
Eligibility
Passed Intermediate
Fees (Oral)
Rs.17000 /-
Fees (Postal)
Rs.17000 /-
Uniform Fee Structure for pursuing CMA Courses is notified and shall be made effective for all registrations/enrollment to the Intermediate/ Final Course with effective from 01.02.2015. It may be noted that CMA Foundation Course Fee structure is uniform – irrespective of either Oral or Postal mode of coaching.
ICWA Registration Last Date
The candidate has to apply 4 months before the examination. Then only he/she will be eligible to write the exam. See the last dates below.
ICWA Foundation Registration Last Date
June Examination
31st January
September Examination
30th April
December Examination
31st July
March Examination
31st October
ICWA Registration Last Date For Intermediate and Final
June Exam
31st January
December Exam
31st July
Regional Offices For ICWA Admission
Apply to the following Regional Councils with duly filled in application together with relevant documents.
Mumbai
Covering Areas
Covering areas: Gujarat, Chhattisgarh, Madhya Pradesh, Goa, Maharashtra.union territories: Nagar haveli, Dadra, Daman Diu.
Address
Western India Regional Council, "Rohit Chambers", 4th floor, Janmabhoomi Marg, Fort, Mumbai – 400001.Website: www.icwai-wirc.org
Chennai
Covering Areas
Covering areas: Andhra Pradesh, Tamil Nadu, Karnataka, Kerala, Pondicherry. Union territory: Lakshadweep.
Address
Southern India Regional Council, 4, Montieth Lane, Egmore, Chennai – 600008.Website: www.sircoficwai.com
Kolkata
Covering Areas
Covering areas: Assam, Arunachal Pradesh, Bihar, Jharkhand, Manipur, Meghalaya, Mizoram, Nagaland, Orissa, Tripura, West Bengal, Sikkim, The Andaman & Nicobar Islands and Foreign Countries.
Address
Eastern India Regional Council, 84, Harish Mukherjee Road, Kolkata – 700025.
New Delhi
Covering Areas
Covering areas:  Delhi, Haryana, Himachal Pradesh, Jammu & Kashmir, Punjab, Rajasthan, Uttar Pradesh, Uttaranchal. Union Territory: Chandigarh.
Address
Northern India Regional Council, 3, Institutional ares, lodi road, New delhi – 110003.
ICWA Registration Status Checking Online For Foundation, Inter, Final
You can check the ICWAI Registration status online for Foundation, Executive, and professional courses. You can check the status of your application with different combinations of Application/Registration number with Date of Birth, Email ID with DOB and Mobile number with DOB.

Registering Online:
Make sure that you have the following before you fill the application form. They are Contact details like Address, mobile number, and Email ID.
Documents Required:
Passport size photo (Scanned copy) in jpg or jpeg format.
Certificate of Age proof in PDF format not exceeding 600 kb.
Scanned copy of Signature in jpg or jpeg format.
Certificates of Educational Qualification in PDF Format not exceeding the size of 600 kb.
Registration Procedure
Upload all the documents and Make payment.
Registration or Identification number will be generated after verification from the director of studies.
After Registration or Identification is generated Study materials will be dispatched.
Incomplete applications are available for 30 days for completion from the date of original registration. In the case of not applied properly and After 30 days to the original application date no data will be available and the applicant needs to apply for a fresh application.