CA VS ICWA: CA And ICWA are the two important courses for the students who are planning their carrier in taxation, auditing etc. But when it comes to choose which course is better then starts the real problem. Choosing the course is an important step which should be done with great care.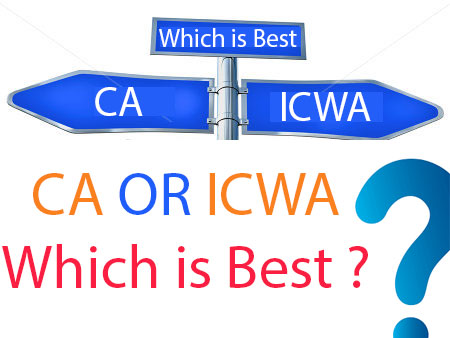 Some of the professionals also saying that combination is also better. But it depends on the stamina of the student also.
Also see : How to pass ca exam in one month.
CA vs ICWA Which is better?
When a student want to study furthermore and do Ph.D. then ICWA is best. Because ICWA course is approved by the association of Indian universities. CA Course is not like that. It enables to become member of Institute of Chartered Accountants of India. If you want to continue your career in universities at abroad then some universities will not accept.
When we see from career growth and salary CA course is better than ICWA. CA holders can practice privately if they want.
CA vs ICWA Salary
see the salary and job differences of the both careers below.
ICWA Course
After completion of the icwa course student can continue his career as cost and management accountant. ICWA completed candidate can earn salary between l lakh to 6 lakhs per annum by joining in a managerial position.
Alternatively they can also join as internal auditors in the organizations and can earn 4 lakhs to 6 lakhs salary per month.
See full ICWA Course Details., CS Course Details
CA Course
CA course is the most difficult course. But its scope is better than the cs course and other.  There is no doubt to say that 'CA' holder can earn more than any other.
After completion of the chartered accountancy course they can work as chartered accountants at various organizations and can earn from 2 lakhs to 10 lakhs per annum.
There are three stages in the CA course cpt, intermediate ad final course.