There are 3 stages in Company Secretary Course. Here we are providing C.S course details because many students are asking questions like how to become a company secretary, What is CS Course? etc.
In our previous posts, we wrote about ICWA Course Details and CA Course Details read those posts also.
This post provides details about cs course information like admission, registration cs course details after graduation, Course duration, Examination, syllabus, etc. for more information check another post of CS Course Details written by other author in this site.
Also see: ICWA Course Details, Chartered Accountant Course Details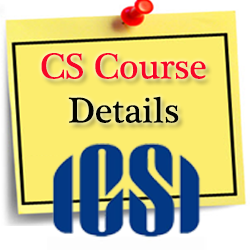 CS Course Details
ICSI (The Institute of Company Secretaries of India) which is the CS Institute and the premier National Professional body established by Act of Parliament to develop and regulate the Profession of Company Secretaries.
There are three stages in CS Course. They are
Foundation Program
Executive Program
Professional Program
The student has to go 15 months of practical training which may opt after passing the Executive program.
ICSI Executive program can be pursued after foundation course.
The professional program can be pursued after successful completion of the Executive course.
After completion of the professional course and 15 months training student is joined as Associate Member of the ICSI and called as Associate company secretary (ACS).
Company Secretary Course Syllabus
The following are the subjects in different stages of cs course. see the company secretary course subjects below.
CS Foundation Subjects
Business Environment & Entrepreneurship
Business Management, Ethics, and Communication
Business Economics
Fundamentals of Accounting and Auditing
CS Executive Subjects
Module 1:
Company Law
Cost and Management Accounting
Economic and Commercial Laws
Tax Laws and Practice
Module 2:
Company Accounts and Auditing Practices
Capital Markets and Securities Laws
Industrial, Labor and General Laws
CS Professional Subjects
Module 1
Advanced Company Law and Practice
Secretarial Audit, Compliance Management, and Due Diligence
Corporate Restructuring, Valuation, and Insolvency
Module 2
Information Technology and Systems Audit
Financial, Treasury and Forex Management
Ethics, Governance, and Sustainability
Module 3
Advanced Tax Laws and Practice
Drafting, Appearances, and Pleadings
Elective one out of five
Banking Law and Practice
Capital, Commodity and Money Market
Insurance Law and Practice
Intellectual Property Rights – Law and Practice
International Business-Laws and Practices
Course Duration
The students have to undergo to the following training
7 days Student Induction Program (SIP).
70 hours compulsory computer training program.
8 days Executive Development Program (EDP).
25 hours of Professional Development Program (PDP) during 15 months training.
15 months training after passing the Executive Program or Professional Program.
3 months practical training is required to be undergone by the student if the student completes professional program examination and exempted from undergoing at least 12 months training on the basis of Company Secretaries Regulations.
15 days training in a specialized agency.
15 days Management Skills Orientation Program (MSOP).
Admission & Registration
Admission for company secretary course: CS Foundation registration is open for an entire year. If you want to attend company secretary entrance exam in December then you should register in March. If you want to attend company secretary entrance exam in June then register before or in September.
Course Fee
See the CS Course fees details for company secretary course registration below.
CS Foundation Course
Particulars
Fee
Total
General
Admission Fee + Education Fee
1500, 3000
4500
SC /ST
Admission Fee + Education Fee
50% of Total Fee
2250
Handicapped
Admission Fee
1500
1500
Check This – What is a DD? and How to Make a Demand Draft Online or Offline
CS Executive
| | | |
| --- | --- | --- |
| Particulars | Fee | Total |
| Foundation pass out student | 8500 | 8500 |
| Handicapped student | Only registration fee | 2000 |
| SC / ST | 50% total fee | For Commerce 4500 and for Non-Commerce 5000 |
CS Final Course
| | | |
| --- | --- | --- |
| Particulars | Fee | Total |
| For commerce graduates, CPT or ICWAI foundation passed students | 500+2000+10000 | 12500 |
| Non-commerce Students | 12500+1000 | 13500 |
After Graduation
Graduated students can go to Executive program directly without foundation program.
Company Secretary Examination
Examinations are conducted twice a year.
Examination fee for foundation course is Rs 1200 /- and For executive, professional Rs 1200/- per module.
Except business communication subject, Institute allows a facility to students to appear in examination in English as well as in Hindi.
Qualifying marks for CS course are as follows. The student is declared as passed in the Foundation or Executive or Professional exams if he or she secures at one sitting a minimum of 40% marks in each paper and 50% marks in the aggregate of all subjects.
Jobs and Salary
Placement cells at Institute's Headquarters, its Regional and Chapter offices are helping to the members to get suitable placements. Merit students can get a salary ranging between Rs 3 lacs to Rs 5 lacs per annum. In large companies, salaries may range up to one crore also. But depends on the capabilities of the candidate and sector.
Can work as in-house legal experts or compliance officers in the office.
Can work as an expert in corporate laws and corporate governance.
Can work as a chief advisor to the board of directors.
Can work as a corporate planner and more roles.
After reading this article you may get some idea about company secretaryship. Please share this information about C S Course Details with your friends also.