If you are searching for Company Secretary (CS) Course Details, then you are at right page. Under this article, you can find every detail about CS Course such as Admission Requirements, Fees of Company Secretary Course, CS Syllabus, Duration, Total cost of the CS Course, Top Colleges list, Jobs after CS Course, Salaries, etc.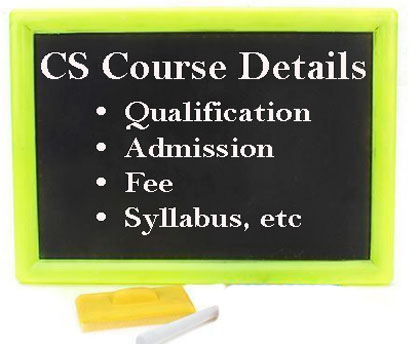 In our previous article, we provide CS Executive Syllabus and Subjects, ICSI Syllabus, CS Professional New Syllabus, ICWA CA CMA CS & Other Course Details, Study Materials etc
About CS Course
Company Secretary (CS) is a professional course administered by The Institute of Company Secretaries of India (ICSI) under the Company Secretaries Act, 1980. T5he CS Course is divided into 3 stages – Foundation Program, Executive Program and Professional Program.
Foundation Program can be pursued by 10+2 or equivalent students of Arts, Science or Commerce stream (excluding fine arts)
Executive Program can be pursued by a Graduate of all streams except fine arts
Professional Program can be pursued only after clearing the Executive Program of CS Course.
Note: Examinations are held twice a year in June and December
Company Secretary Course Details
CS Course Fee Structure              
CS Foundation Program – Rs.3600/-
CS Executive Program – Rs.7000/- for Commerce Graduates
CS Executive Program – Rs.7750/- for Non-Commerce Graduates
CS Professional Program Rs.7500/-
Also see: ICWA Course Details, Chartered Accountant Course Details
Eligibility Criteria
Students who have passed Senior Secondary (10+2) or equivalent examination of a Board/University constituted by law in India or any examination recognized by the Central Govt as equivalent thereto can join the CS Course.
There is no minimum requirement of percentage of marks secured at Senior Secondary (10+2 or equivalent) exam.
Duration of Company Secretary Course
Foundation Program
Minimum – 8 Months
Maximum – Needs to be completed within 3 years of registration
Executive Program
Minimum – 12 Months/ One Year
Maximum – Needs to be completed within 5 years of registration for the Executive Program.
Professional Program
Minimum – 12 Months/ One Year
Maximum – Needs to be completed within 5 years of registration for the Executive Program.
Subjects for CS Course
There are 4 papers in Foundation Course
Business Environment and Entrepreneurship
Business Management, ethics and Communication
Business Economics
Fundamentals of Accounting and Auditing
There are 7 papers divided into 2 Modules in CS Executive Course
Module I
General and Commercial laws
Company Accounts, Cost and Management Accounting
Tax laws
Module II
Company Laws
Economic and Labour Laws
Securities Laws Compliances
There are 8 papers divided into 4 Modules in CS Professional Course
Module I
Company Secretarial Practice.
Drafting, Appearances and Pleadings.
Module II
Financial, Treasury and Forex Management.
Corporate restructuring and insolvency.
Module III
Strategic Management, Alliances and International Trade.
Advance Tax Laws and Practices.
Module IV
Due Diligence and Corporate Compliance Management.
Governance, Business Ethics and Sustainability.
Process of Applying for CS Exam
Candidates need to apply for this exam only in online mode
Applicants are required to visit the official website that is www.icsi.edu where they will find "Online Services" link.
Click on the and now go to the students click present in the page and then click on "Students Registration"
Now candidates are required to click on the link "Proceed to Registration"
Once login credentials are available candidates have to login.
Then fill the ICSI online application form
Make the payment of application fee
Upload scanned copies of documents in support of educational documents
Next verify once all details and submit the form.
Last Date for CS Admission
31st March for appearing in December Examination in the same year.
30th September for appearing in June Examination in the next year.
Institute of Company Secretary of India
ICSI Agra
ICSI Ahmedabad
ICSI Ajmer
ICSI Allahabad
ICSI Alwar
ICSI Amritsar
ICSI Aurangabad
ICSI Bangalore
ICSI Bareilly
ICSI Bhilwara
ICSI Bhopal
ICSI Bhubaneswar
ICSI Calicut
ICSI Chandigarh
ICSI Coimbatore
ICSI Dehradun
ICSI Dombivli
ICSI Faridabad
ICSI Ghaziabad
ICSI Goa
Click Here for CS Result of Executive and Professional