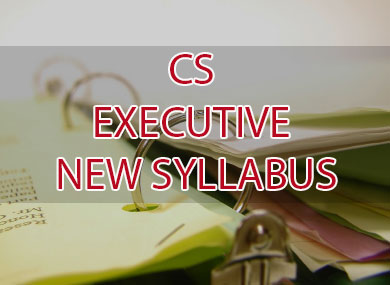 Here in this post, we are providing the CS Executive new syllabus details along with the CS executive subjects and their contents as per the ICSI Syllabus Notification for the company secretary course syllabus.
In the previous posts, we wrote about cs course details see those details also.
CS Executive Subjects as per Latest ICSI Syllabus
The subjects in CS Executive Course are divided into two modules and there are7 subjects.
Modules
Subjects
Marks for Each Subject
Module 1
Company Law
100 Marks
Cost & Management Accounting
100 Marks
Economic & Commercial Laws
100 Marks
Tax Laws & Practice
100 Marks
Module 2
Company Accountants and Auditing Practices
100 Marks
Capital Markets and Securities Laws
100 Marks
Industrial, Labor and General Laws
100 Marks
See Also – C.A Course Details, C.F.A Course Details, C.S Course Details.
CS Executive Syllabus for Company Law
Expert Knowledge level is required. The objective of this is to acquire knowledge & understand the regulatory frameworks of the companies.
New Syllabus of CS Executive Company Law Paper
Introduction, Incorporation and its Consequences, Financial Structure, Membership in a Company, Management and Control of Companies, Investments, Loans and Deposits, Accounts and Audit, Dividends, Registers, Forms and Returns, Inspection and Investigation, Majority Rule and Minority Rights, (Merger, Demerger, Amalgamation, Compromises and Arrangements – An Overview), Producer Companies, Limited Liability Partnerships, Application of Company Law to Different Sectors, Offences and Penalties, Compounding of Offences, Winding up of Companies, Striking Off Name of Companies, An Introduction to E-Governance and XBRL.
Cost & Management Accounting
To gain knowledge of the concepts, techniques and to practice cost & management accounting to develop decision-making skills.
ICSI new syllabus of this paper
Introduction to Cost and Management Accounting, Material Cost, Labor Cost, Direct Expenses and Overheads, Activity Based Costing (ABC), Cost Records, Costing Systems, Marginal Costing, Standard Costing, (Budget, Budgeting and Budgetary Control), (Cost Accounting Records and Cost Audit), Analysis and Interpretation of Financial Statements.
ECONOMIC AND COMMERCIAL LAWS
The objective of this paper is to understand economic & commercial laws. In this Par –A (70 Marks) For advanced knowledge and Part–B (30 Marks) For working knowledge.
ICSI Executive Syllabus of This Paper
Part A – 70 Marks
Part B – 30 Marks

Foreign Exchange Management
Foreign Trade Policy and Procedures
Competition and Consumer Protection
Intellectual Property Rights
Law relating to Arbitration and Conciliation
Law relating to Transfer of Property
Law relating to Stamps
Law relating to Contract
Prevention of Money Laundering

Law relating to Essential Commodities, Weights, and Measures
Law relating to Societies
Law relating to Trusts
Industries Development and Regulation
Law relating to Pollution Control and Environmental Protection
Law relating to Registration of Documents
TAX LAWS AND PRACTICE
The objective is to acquire practical and procedural aspects to direct tax laws, service tax & vat.
Part A – 70 Marks
Part B – 30 Marks

Basics and Definitions – Income Tax Act , 1961
Incomes which do not form part of Total Income
Computation of Total Income under Various Heads
Income of Other Persons included in Assessee's Total Income;
Tax Planning & Tax Management
Wealth Tax Act, 1956
Basic Concepts of International Taxation
Transfer Pricing
General Anti-Avoidance Rules (GAAR)

An Overview of Service Tax
An Overview of Value Added Tax
COMPANY ACCOUNTS AND AUDITING PRACTICES
Part A
Part B

Share Capital
Debentures
Final Accounts of Companies
Corporate Restructuring
Consolidation of Accounts
Valuation of Shares and Intangible Assets
Liquidation of Company
Corporate Financial Reporting
Accounting Standards

Auditing Concepts
Types of Company Audit
Internal Audit
Internal Control
Review of Internal Control
Audit Engagement and Documentation
CAPITAL MARKET AND SECURITIES LAWS
Part – A 60 Marks
Part – B 40 Marks

Overview of Capital Market
Capital Market Instruments and Rating
Securities Market Intermediaries
Market Infrastructure Institutions – Stock Exchanges
Debt Market
Money Market
Mutual Funds
Venture Capital
Collective Investment Schemes
Resource Mobilization in International Capital Market
Indian Depository Receipts

Securities Contracts (Regulation) Act, 1956
SEBI Act, 1992
Depositories Act, 1996
Issue and Listing of Securities
Regulatory Framework relating to Securities Market Intermediaries
An Overview of Law relating to Insider Trading and Takeovers
INDUSTRIAL, LABOUR AND GENERAL LAWS
The level of knowledge is working knowledge. Syllabus of this paper is
Part A 70 Marks
Part B 30 Marks

Factories Act, 1948
Minimum Wages Act, 1948
Payment of Wages Act, 1936
Equal Remuneration Act, 1976
Employees' State Insurance Act, 1948
Employees' Provident Funds and Miscellaneous Provisions Act, 1952
Payment of Bonus Act, 1965
Payment of Gratuity Act, 1972
Employees Compensation Act, 1923
Contract Labor (Regulation and Abolition) Act, 1970
Maternity Benefit Act,1961
Child Labor (Prohibition and Regulation) Act, 1986
Industrial Employment (Standing Orders) Act, 1946
Industrial Disputes Act, 1947
Trade Unions Act, 1926
The Labor Laws Exemption from Furnishing Returns and Maintaining Register by Certain Establishments Act, 1988
Employment Exchanges Act, 1959
Apprentices Act, 1961
Labor Audit covering the above Acts and those Industry specific Acts

Constitution of India
Interpretation of Statutes
An Overview of Law relating to Specific Relief; Limitation and Evidence
Code of Civil Procedure
Indian Penal Code and Criminal Procedure Code
Right to Information
Visit www.icsi.edu for more details.