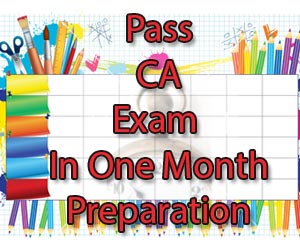 Revision test papers are very useful to pass CA final exam and to pass CA ipcc exams. Don't worry about how to pass ca exam in first attempt because its very easy to pass with even 20 days preparation also if you plan well. Many people will fail even though they have 6 months of time to prepare. But many students are also passing ca exams in first attempt with only one month preparation also. So don't worry about how to pass ca final exam or ipcc exam easily.
Important Tips about How To Pass ca exam in one month
You should complete the preparation of all the important topics in time.
You should follow the best time table with dedication.
Use Study Material and Revision test papers.
Paper 1: Accounting
Partnership Accounts.
Not-for-profit organizations.
Amalgamation.
Cash flow.
Single Entry System (Accounting from incomplete records).
Accounts in computerized environment.
Paper 2: Business laws, Ethics And Communications.
Indian Contract Act.
Payment of Bonus Act.
EPF.
Gratuity Act.
Company Act.
Ethics.
Communication.
Paper 3: Cost Accounting And Financial Management
Costing.
Financial Management.
Exam tips:
Use working notes where ever necessary for costing preparation.
Don't worry about twisted questions read slowly and carefully.
Paper 4: Taxation
Income Tax.
Service Tax and VAT.
Paper 5: Advanced Accounting
Exam Tips:
AS
Insurance companies financial statements
Banking Companies financial statements
Branch accounts or Department accounts
Advanced issues in partnership or Amalgamation
Batter to solve the questions of practice manual of accounting standards.
Paper 6: Auditing And Assurance
Exam Tips:
Writing answers in a point wise manner is best.
Use practical knowledge while answering this shows your grip in the subject.
Paper 7: Information Technology And Strategic Management
Tips:
Useful to use technical terms in the point wise manner.
Definitions are asked about 15 marks so concentrate on them.