ICWA Inter Syllabus: CIMA which is previously called ICWA now as CMA. There are some changes made to CMA Inter syllabus or ICWA inter syllabus. See our recent post about ICWAI Syllabus for complete syllabus change details. The Institute of cost accountants of India made these changes in the CMA executive course syllabus. Recently The Institute of cost accountants of India released a notification regarding ICWA Inter syllabus change. In that notification mentioned that names of inter and Final are changed to CMA Executive and CMA Professional Courses. So we have to call them as ICWAI executive or CMA Executive Course and ICWAI professional or CMA professional Course. 
Also See: ICWA Registration, CMA Course Details, ICWAI Foundation Syllabus, ICWAI Executive Syllabus, ICWAI Professional Syllabus, ICWAI Study Materials For Foundation, Inter & Final.
ICWA Inter Syllabus or CMA Executive Syllabus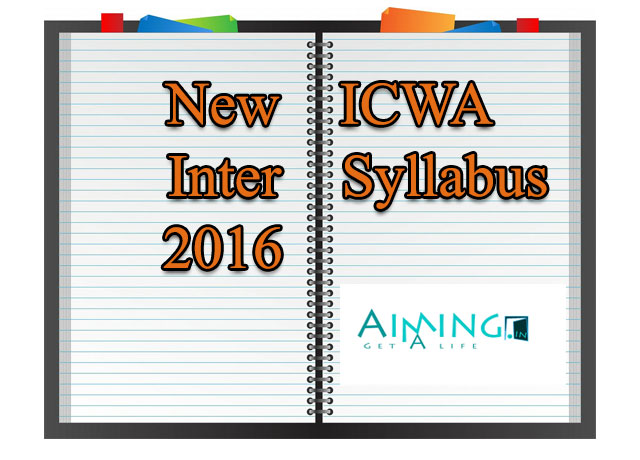 The First Examination under " CMA New Syllabus 2016" shall be conducted in June. The Last Examination under " ICWAI Syllabus 2012" shall be conducted in December.
Also see: ICWA Registration Fees, CA VS ICWA Which is Better?
Months
Based on syllabus
Icwa inter syllabus for December 2016
2012
2016
Icwa inter syllabus for June 2017
2012
2016
Icwa inter syllabus for Dec 2017
2016
See the below ICWAI syllabus 2016 for CMA Executive. There are 4 modules they are:
The Icwa inter subjects are
Module 1
Financial Accounting
Laws, Ethics & Governance
Module 2
Direct Tax & International Taxation
Cost accounting and Financial management
Module 3
Operations Management
Cost and Management Accounting
Module 4
Indirect Taxation
Company Accounts and Audit
Also see: See the notification file about syllabus from ICWA Portal
Training & Quality Assessment Test during CMA Executive Course
Compulsory Computer Applications Training for 100 hours
Three days of compulsory Communication & Soft Skills Training
Web-based Centralized Quality Assessment Test to seek eligibility which is Mandatory Requirement to Qualify.
Highlights of ICWA Inter or Professional New Syllabus 2016-17
Student choice to go ahead with the selected specialization subject or area.
Student's choice to appear in Module or Modules as per his opinion