ICWAI Final Syllabus 2015 | CMA Professional Syllabus: There are some changes in ICWAI Final syllabus. Recently, a notification was released regarding syllabus changes in the ICWA course.  We gave the complete ICWAI Syllabus 2016 Changes in our previous post. According to the notification names of the courses are changed.  CMA Inter name is changed to CMA executive course or ICWAI executive course and CMA final course name is changed to CMA professional course or ICWAI professional course.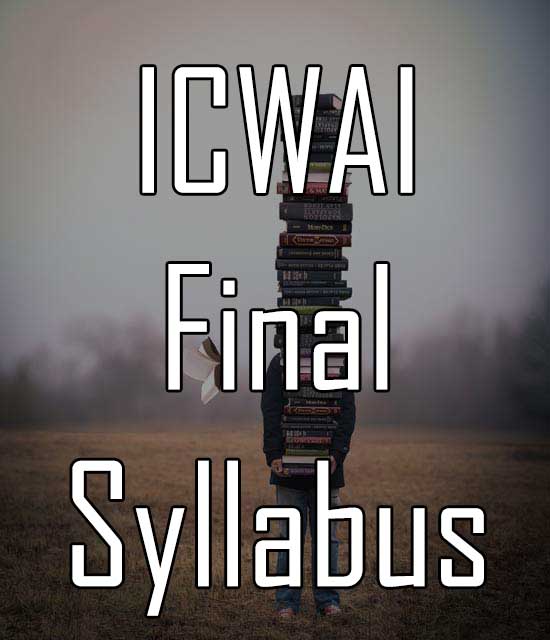 Also see: ICWAI Foundation Syllabus, ICWAI Inter Syllabus and ICWA Registration
ICWAI Final Syllabus 2016 | CMA Professional Syllabus 2016
First examination under ICWAI Syllabus 2016 will be conducted in December 2016 & the last examination under ICWAI syllabus 2012 will be conducted on June 2017.
ICWAI Exam
Based on Syllabus
December 2016
Syllabus 2012
Syllabus 2016
June 2017
Syllabus 2012
Syllabus 2016
December 2017 Onwards
Syllabus 2016
 Subjects in ICWAI Final Course 2016
Module 5
Corporate Laws and Compliance
Strategic Financial Management
Module 6
Strategic Cost Management and Business Strategy
Advanced Direct Tax Laws & International Taxation
Module 7
Cost and Management Audit
Financial Analysis & Reporting
Module 8
Advanced Indirect Tax – Laws and Practice
"Optional" to be selected from "Specialization Papers"
Strategic Performance Management & Business Valuation
International Business
Treasury Management, Security Analysis & Portfolio Management
Project Management & Control
Supply Chain Management
 ICWAI Final Syllabus PDF | CMA Final Syllabus PDF (2016 & 2012)
See the CMA professional course syllabus pdf files from the icmai portal. Below are the download links of the syllabus PDF files. Both 2016 and 2012 syllabus links are there.
Verbs that appear in the syllabus learning aims and examination questions
Learning Objectives
Verbs
Definition
Knowledge What you are expected to know
List
Make a list of
State
Express, fully or clearly, the details/facts of
Define
Give the exact meaning of
COMPREHENSION What you are expected to understand
Describe
Communicate the key features of
Distinguish
Highlight the differences between
Explain
Make clear or intelligible/ state the meaning or purpose of
Identify
Recognize, establish or select after consideration
Illustrate
Use an example to describe or explain something
APPLICATION How you are expected to apply your knowledge
Apply
Put to practical use
Calculate
Ascertain or reckon mathematically
Demonstrate
Prove with certainty or exhibit by practical means
Prepare
Make or get ready for use
Reconcile
Make or prove consistent/ compatible
Solve
Find an answer to
Tabulate
Arrange in a table
ANALYSIS How you are expected to analyses the detail of what you have learned
Analyze
Examine in detail the structure of
Categories
Place into a defined class or division
Compare and contrast
Show the similarities and/or differences between
Construct
Build up or compile
Prioritize
Place in order of priority or sequence for action
Produce
Create or bring into existence
SYNTHESIS How you are expected to utilize the information gathered to reach an optimum conclusion by a process of reasoning
Discuss
Examine in detail by argument
Interpret
Translate into intelligible or familiar terms
Decide
To solve or conclude
EVALUATION How you are expected to use your learning to evaluate, make decisions or recommendations
Advise
Counsel, inform or notify
Evaluate
Appraise or asses the value of
Recommended
Propose a course of action
Practical Training for ICWAI Final Course
The student must complete at least 6 months of practical training out of 3 years of training in order to be eligible for the exams of all the modules or for the remaining modules.
Training & Quality Assessment During ICWAI Final Course
Computer Training – 50 hours
Industry oriented Training Program – 7 days
Advanced Managerial Skill Development Training – 8 days
Online Centralized Quality Assessment Test – (24×7)