See the ICWAI Inter Questions papers of 2014 and 2013 in this post. We will update CMA executive question papers of Dec 2014 as soon as possible. Also see CMA Course Details.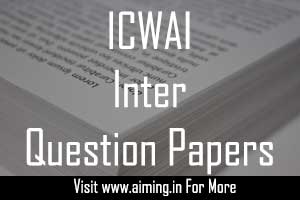 ICWAI Inter Question Papers June 2014 (ICWAI Syllabus 2012)
Content In This Article
Latest Deals Around The Web

Earn Money By Installing Google Tez APP
Amazon Offers
Download the ICWAI inter question papers direct tax and other subjects pdf from the below links.
Financial Accounting
Laws, Ethics & Governance
Direct Taxation
Cost Accounting & Financial Management
Operation Management & Information Systems
Cost & Management Accountancy
Indirect Taxation
Company Accounts & Audit
ICWAI Question Papers June 2014 (ICWAI Syllabus 2008)
Download CMA Inter question papers june 2014 from the below links
ICWAI Question Papers December 2013 (ICWAI Syllabus 2012)
Download ICWA inter Question papers of Dec 2013 from the below links
Financial Accounting
Laws, Ethics & Governance
Direct Taxation
Cost Accounting & Financial Management
Operation Management & Information Systems
Cost & Management Accountancy
Indirect Taxation
Company Accounts & Audit
ICWAI Question Papers December 2013 (ICWAI Syllabus 2008)
Download ICWAI inter question papers of December 2013 based on ICWAI syllabus 2008
ICWAI Question Papers June 2013 (ICWAI Syllabus 2008)
Download ICWAI inter question papers PDF's June 2013 based on "ICWAI syllabus 2008"from the following links
Useful links for CMA Students
ICWAI Study Material for Foundation, Inter &Final
ICWAI Syllabus 2016 of Foundation, Inter &Final