In this article, you can get the detailed explanation of ICAI Final Time Table, complete CMA Final Course Details like Qualification Required, Fee Structure, Syllabus, Apply, Last Date, etc. read the article completely to get full knowledge and browse this website for more information. In our previous article, we wrote about CMA course details read that article also.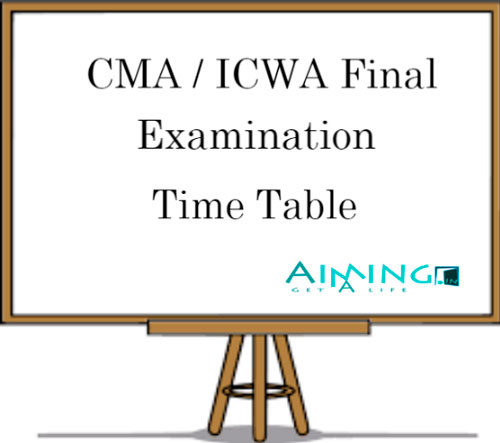 About ICAI/CMA
Previously The Institute of Cost Accountants of India (ICAI) called as the Institute of Cost and Work Accountants of India (ICWAI) is a foremost statutory professional accountancy body in India. The main objects of ICAI is promoting, regulating and developing the profession of Cost Accountancy. Also, ICWA course has turned into CMA course. There are 3 stages of Cost and Management Accountancy (CMA):
Entry level: Foundation
First stage: Intermediate
Final stage: Final
These 3 level examinations are held twice a year i.e. one is in the month of June and another one is in the month of December. You can take register yourself directly to CMA Foundation or CMA Intermediate or CMA Final level depending on your eligibility.
Eligibility for Admission:
A student is admitted to final course on passing the intermediate examination
A student must have Graduation in any discipline (except Fine Arts) or equivalent.
CMA Final Course Fees
CMA Final Course: Rs 12000/- for postal mode and Rs 17000/- for oral coaching mode
ICWAI CWA Final Syllabus & Exam Pattern
Read below ICWAI Syllabus for CMA Final Exam.
ICAL Final Examination consists of 2 stages of 4 papers each of 100 marks each.
Each paper 3 hours
At least 50% marks are required to pass the CMA Final exam, aggregate in the both the session.
CMA Final STAGE III
Paper 13: Operations and Project Management and Control
Section I: Operations Management
Section II: Project Management
Paper 14: Advanced Financial Management and International Finance
Paper 15: Strategic Management and Marketing
Paper 16: Strategic Tax Management
CMA Final STAGE IV
Paper 17: Management Accounting – Decision Making
Paper 18: Management Accounting – Financial Strategy and Reporting
Paper 19: Cost Audit and Management Audit
Section I: Cost Audit
Section II: Management Audit leading to other services
Paper 20: Valuation Management and Case Study
Section I: Valuations Management
Section II: Case Study
CMA Final Examination Schedule:
Last Date to apply for Final Examination without late fee: Soon Updated
Last Date to apply for Final Examination with late fee: Soon Updated
Availability of CMA Final Admit Card for Dec Exam: Soon Updated
Date of Exam: Soon Updated
Declaration of Result: Soon Updated
Note: Registration for the ICAI course is open throughout the year But, Students eager to appear
For June Term Exam should apply before 31st January of that year &
For December Term Exam should apply before 31st July of that year.