Economics: With regard to an individual, economics is defined as "The process where a person consumes goods and services to satisfy his needs". But in the business sense, it is defined as "an art of science dealing with production, distribution and consumption of goods and services to increase the growth of the business, organizations and nations by making right choices for proper utilization of resources to increase the wealth of nation". Let us see complete details about BSc Economics like its Subjects, eligibility, course fee, syllabus, career, job profiles, salary packages, etc.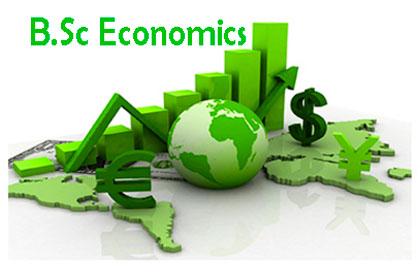 Bachelor of Sciences with Economics:
Recently new courses are introduced in science courses with relation to Economics in bachelor degrees to know the need of economics and the use of them. It is one of the specialisation courses in bachelor's degree which is used in the process of decision making. Some of the courses are:
Physics with Economics
Chemistry with Economics
Biology with Economics etc.
Subjects in BSc Economics: 
The subjects in this course are as follows:
Micro Economics & Macro Economics
Monetary Systems
Elements of Public Finance
Policy and the Indian Economy
Mathematical Applications in Economics
Public Economics
Econometric Methods
International Trade & Policy
Introduction to Development Economics
Introduction to Environmental Economics etc.
Course Duration:            
The duration of the Bachelor of Sciences Economics course is three years.
Fee Structure:  
The fee charged for B.Sc Economics is Rs.30,000/- to  Rs.50,000/- per annum.
Eligibility Criteria:          
The eligibility for this course is 10+2 with the basic stream as mathematics and sciences.
Advanced Courses for B.Sc Economics: 
Advanced courses related to B.Sc Economics are:
A.Economics
Sc. Business Economics
A. Analytical & Applied Economics
A. Quantitative Economics
B.A. Business Economics
Sc. Mathematical Economics etc.
Top colleges for B.Sc Economics:             
The top colleges that hire B.Sc Economics are:
Scottish Church College, Kolkata
Avvm Sri Pushpam College, Tanjavur
National Post Graduate College, Lucknow
Kirti M Doongursee College of Arts, Science and Commerce, Mumbai
The New College, Chennai
Ramniranjan Jhunjhunwala College, Mumbai
Lal Bahdur Shastri PG College, Jaipur
The Nizam College, Hyderabad etc.
Employment areas for B.Sc Economics:
The employment areas for B.Sc Economics are:
Marketing Companies
Stock Markets
Research Labs
Educational Institutions
Media Analyst
Relations Manager
Banking Sector etc
Placements for BSc Economics:              
The companies that hire placements for BSc Economics are:
Damodar Valley Corporation
ICICI Bank
IIFA Private Wealth Management
Reliance Capital Asset Management Ltd.
Global Powersource Pvt. Ltd.
Bharosa Technologies Pvt. Ltd.
Intap Labs Pvt. Ltd.
SKP Securities Ltd.
Ernst & Young Ltd.
IDFC Mutual Funds Pvt. Ltd. etc.
Salary packages:
The salary packages may be from Rs.2,00,000/- to Rs.5,00,000/-
Also See: List of Various UG Courses in India