Technology has developed to a great extent from the past 10 years. Changes had taken place mostly in communication. It is easy to communicate to the people anywhere in the world. In the past, due to limited technology, communication became impossible due to limited facilities but now, for every minute everything is going on with as a rapid fire. For more details about BSc IT Course Details like Eligibility, Subjects, Fee, Duration, Career, Jobs, etc.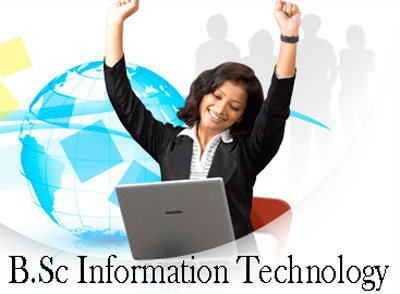 About Information Technology:
The sources required for representation and transfer of information through various technological means can be said as Information Technology. The tools required for representation or transfer of information are telecommunications & multimedia applications.
Bachelor of Sciences in IT:
Information Technology is playing a crucial role in all educational branches i.e; in sciences, management courses, art courses etc. Mostly after the invention (or) development in technology, there is a drastic change in science courses for performing experiments easily. Mainly these IT courses are related to computers and software courses which help in perform their lab functions related to the software programming.
B.Sc.Computer Applications
B.Sc.Statistics
B.Sc.Microbiology
B.Sc.Biochemistry
B.Sc.Agricultural Science
B.Sc.Aquaculture etc.
Subjects in B.Sc IT:                         
The subjects for BSc IT are:
Computer architecture & organisation
Engineering Mathematics
Java Programming & Website Design
Database Systems
Electronics
Oracle
Design & Analysis of Algorithms etc.
Eligibility Criteria: 
The eligibility criteria for this course is 10+2 with sciences.
Course Duration:
The duration of this course is three years.
Fee allotted for the course:  
Fee allotted for the course ranges between Rs.15,000/- to Rs.20,000/-
Advanced Courses:
Advanced courses related to BSc IT are:
M.Sc. with Computer Engineering
M.Sc. with Information Technology
M.Sc. with Computer Networking Engineering
M.Sc. with Communication & Satellite Technology
M.Sc. with Software Engineering etc.
Also See: MBA IT Course Details
Jobs hired for BSc IT:
Lecturers & Professors
Scientific Assistant
Enumerators
Software Programmers
IT Administrators
Clinical Research Managers
Biostatisticians etc
Top Companies:
The top companies that hire B.Sc. IT's are hereunder:
MNC Companies
Accenture Solutions Pvt.Ltd.
Convergys
Google
Infosys
Cognizant
Wipro
L & T
HCL
Deloitte Consulting etc.
Salary Package:
The salary range for a fresher may be Rs.20,000/- to Rs.25,000/- per month and may increase according to the experience.