Get details on CMA Intermediate Exam like its Qualifications, Exam Date and Time, Syllabus 2016, 2012, Application Form, Fee, Registration, Course Duration and more details available here. Read the article completely to get full knowledge and browse the website for more information.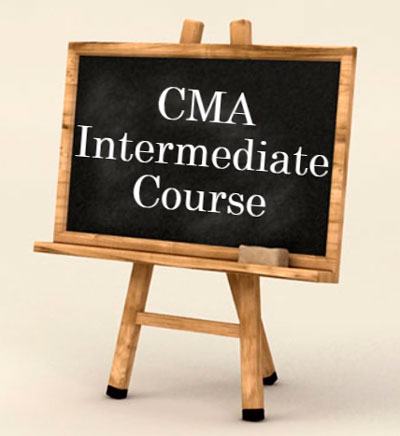 CMA Intermediate Exam
ICWA/CMA Course is offered by The Institute of Cost Accountants of India (ICAI) previous called as the Institute of Cost and Work Accountants of India (ICWAI). Also, ICWA course has turned into CMA course. ICWAI is a foremost statutory professional accountancy body in India. The main objects of ICAI are promoting, regulating and developing the profession of Cost Accountancy. ICWAI is divided into 3 stages:  They are as follows
Foundation Program (6 months)
Intermediate Program (12 months)
Final Course (12 months)
Students can take register you directly to CMA Foundation/CMA Intermediate Program depending on your eligibility. A student has to get through CMA Foundation Course to be eligible to the next level i.e. INTERMEDIATE. Then A student has to get through CMA intermediate course is eligible to apply for CMA Final Course examination.
Eligibility to Pursue CMA Intermediate Course:
Candidates who have completed the CMA Foundation Course are eligible for the intermediate course.
The students who have finished graduation many not have to pass CMA foundation course. They can directly join into the CMA intermediate course.
Candidate age must also be above 18 years.
CMA Intermediate Course Fees:
Intermediate Course: Rs 16000/- for Postal mode and Rs 20,000/- for Oral coaching mode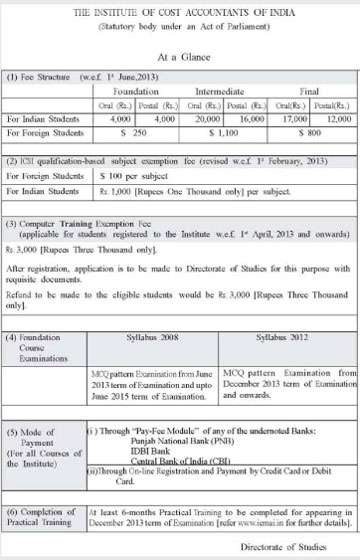 ICWAI CMA Inter Syllabus & Exam Pattern
Read below ICWAI Syllabus for CMA Intermediate Exam.
Group I
Paper 5: Financial Accounting
Paper 6: Laws, Ethics and Governance
Paper 7: Direct Taxation
Paper 8: Cost Accounting and Financial Management
Group II
Paper 9: Operation Management & Information System
Paper 10: Cost and Management Accountancy
Paper 11: Indirect Taxation
Note: Previously ICWAI Foundation, Inter and Final exams conducted by Syllabus 2012. Now Institute of Cost and Works Accountants of India (ICWAI) Changes the Foundation, Inter and Final syllabus from 2016 and introduced Syllabus 2016. So From June 2017, CMA Foundation, Inter, and Final exams will be conducted by Syllabus 2016.
CMA Intermediate Dec Schedule:
Last Date to apply for Intermediate Examination without late fee: Soon Updated
Last Date to apply for Intermediate Examination with late fee: Soon Updated
Availability of CMA Intermediate Admit Card for Dec Exam: Soon Updated
Date of Exam: Soon Updated
Declaration of Result: Soon Updated
Note: Registration for the ICAI course is open throughout the year But, Students eager to appear
For June Term Exam should apply before 31st January of that year &
For December Term Exam should apply before 31st July of that year.