The degree in Agriculture is called as Agriculture Science. Students interesting to pursue the Agriculture courses because this courses can lead to many career opportunities. The Agriculture Science involves the exception of food Science, a business of growing cash crops, raising farm animals and caring for natural resources.
After the completion of their degree students can improve food products as food scientists. Students who want to publicize information about Agriculture sector can earn degrees in Agriculture journalism. See Complete Details about Agriculture Course like Scope, Job Opportunities, Agriculture Career and Salary from this page.
Scope of Agriculture Career:
An Agriculture graduate will have various job opportunities. They will work in Government sector also. If you are an Agriculture graduate you would in tea gardens, rubber plantation, Fruit and vegetable farms. With this degree, you can get good salary package. The Agriculture industry plays a vital role in the Indian economy by contributing approximately 15-20% of the GDP. Hence you have passion, knowledge, and skills you can choose the Agriculture Career .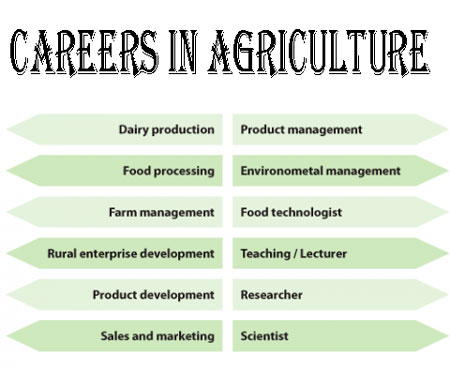 Courses available in Agriculture Science:  
Students have numerous options to pursue agriculture course. Some available agriculture courses are listed here as follows:
Diploma Courses:
Diploma in Agriculture
Diploma Courses in Agriculture and Allied practices
Diploma in Food processing
Bachelor Courses:
Bachelor of Science in Agriculture
Bachelor of Science Crop Physiology
Master Courses:
Master of Science in Agriculture
Master of Science in Biological Sciences
Master of Science in Agriculture Botany
Doctoral Courses:
Doctor of Physiology in Agriculture
Doctor of Physiology in Agriculture Biotechnology
Doctor of Physiology in Agricultural Entomology
Minimum Eligibility Criteria:
12th Science stream students, who have an interest in the sector of agriculture, may pursue this course.
Duration of the Courses:
The duration of the Diploma Courses is 3 years.
The duration of the Bachelor Courses is 3 years.
The duration of the Master Courses is 2 years.
Job profiles:
Agriculture Science Teachers
Commodity Merchandiser
Farm Business Manager
Grain Elevator Manager
Marketing Specialist
Agriculture Journalist
Sales Representatives – Food, Seed, Fuel
Agriculture Scientist
Agriculture Engineer
Agriculture Inspector
Agriculture Specialist
Employment Areas
The Agriculture graduates can work for both private and public Agriculture related companies. They will work in various fields like Horticulture, Coffee or Tea manufacturing units, Food processing units, Soil and Agronomy etc.
Here some of the top companies which provide more employment opportunities to the Agriculture graduates.
Nuziveedu Seeds Limited
DuPont India
Advanta Limited
National Agro Industry
Rallies India Limited
Rasi Seeds
Lemken India Agro Equipments Private Limited
Godrej Agrovet Limited
Poabs Organic Estates
Monsanto India
Salary Structure:
The fresh Agriculture graduates can earn approximately 13,000 and experienced graduate can earn around 14,000-25,000.
The M.sc fresh candidate can get approximately 60,000 and experienced candidate can get around 90,000.