In this competitive world you just can't stay at only at one area, you need to upgrade your skills, enhance your qualifications and search for good and better career opportunities. First you have to plan your career with in short span of time. There are various disciplines such as Information Technology, Human Resource Management, Business Administration, Engineering, Fine Arts, Pharmacy, Medicine, Hospitality Management, education etc. For your future the one year post graduation courses will help you by providing professional skills and depth knowledge of related disciplines in less time. This article will helps you by providing One year Post Graduate Courses which are available in India.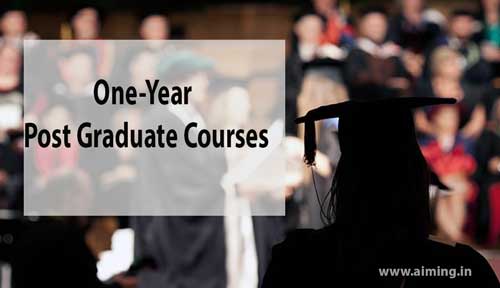 About one year PG Courses in India
The candidates who have completed their graduation typically will go for Master's or post-graduation level courses in India. One year PG courses have huge demand in India and out of country also. The students go for PG courses in their related stream or other stream also. They choose the courses, is based on their choice of the stream.
There are many reputed colleges/universities offering demanding and popular post-graduation specializations across the India. The one year courses is similar to that of full time courses. Some post-graduation courses has different requirements. For some PG courses in India you need to have pursued the same courses for your graduation.
Importance of PG Courses
The importance of one year Post-Graduation courses in India is more. The PG or Master courses enables the students to have a depth knowledge of a particular subject which they want to deal with. The post-graduation courses also helps one specialize in different fields. If you are thinking to change your professional stream, these one year post graduation courses in various stream will help you to achieve your dream career.
List of One year Post Graduate Courses in India  
Here we are providing you the list of one year PG courses which are available in India, Depending upon your interest and course availability, you can choose any one of them.
Master of Science(M.Sc.)
Master of Commerce (M.Com.)
Master of Technology(M.Tech)
Master of Computer Application(MCA)
Master of Law(LLM)
Master of Engineering(M.E)
Master of Business Administration(MBA)
Master of Architecture
Doctor of Medicine(MD)
Master of Dental Surgery
Master of Pharmacy
Master of Homeopathic Medicine and Surgery(MHMS)
Master of Education
Master of Physical Education
Master of Hospitality and Hotel Management( MHHM)
Post Graduate Diploma
Post Graduate Program in Management
Post Graduate Diploma in Software Engineering
Post Graduate Program in Public Management and Policy(PMP)
Executive Management Program
Post Graduate Programs for Executives(PGPEX)
Master of Public Health
Master of Journalism
Master of Social Work
Master of Tourism Management
Master of Library Science
Master of Fine Arts
Master of Foreign Trade
Master of Information Management
Master of Health Science
Eligibility of PG Courses
In India number of colleges/universities offering the one year PG courses for the students. To enroll for one year post-graduation courses you need to have a bachelor's degree first in our country.
Benefits of One Year PG Courses
The students in the part time post-graduation programs involves working professionals and the class schedule is more flexible as compared to full time PG courses.
These courses tend to be less intensive also.
This One year Post Graduate Courses gives you the freedom to pursue the higher education, even as you work in India.
This Post graduate programs tend to be less competitive when compared with the full time regular PG programs.
One year Post Graduate Courses through Distance Education
The distance learning PG courses are equal to one year post graduate courses in India. The distance mode of education will also helpful for the working professionals to enhance their educational qualifications, even they are working. You can expect to increase your job prospects after completion of distance education of PG courses. Many distance education institutions offers various PG courses in different streams for the interested candidates.
Career Path
The main aim of the one year PG courses is to improve the depth knowledge of various subjects which the candidate should choose. So it is important for anyone to have a master degree if the person wishes to get a job. The job opportunities depends upon the Post graduate programs that the person choose. For bright career you have to choose more lucrative PG or Master Courses which are available to us.