Engineering is one of the sought and demanding field in India. Many students are interested to pursue engineering courses after completion of their 12th of science stream. Here we are you providing some of the most popular Engineering Branches in India which have always scope of growth and exposure in this field, let's read the article completely.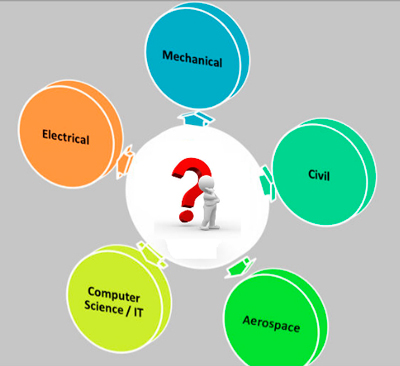 Importance of Engineering:
Engineering is a very important discipline across the world. In the present world we exist in, no country will succeed without the adoption of engineering practices. The importance of engineering in our world is numerous. Engineering is a science process and through this the candidates gain scientific knowledge through study, experiment and practice to develop different ways to use economically, the materials or forces of nature for the benefits of humans. The importance of engineering to be elaborated on are related to some key areas. These areas are as follows.
Agricultural
Educational
Banking
Marketing
Automobiles and
Health Sectors
Besting Engineering Branches list:
There are multiple branches are available in engineering discipline today. All Engineering Branches have equal scope and equal career opportunities in India and outside India. All engineering branches are needed in its related industries. The students are confused about which one to select, among all branches. So we provide some important and job oriented branches of engineering below.
Civil Engineering:
Civil Engineering is one of the best branches of engineering discipline. It covers topics such as Engineering Mathematics, Physics, Town and City Planning, Structural Engineering, Earthquake Engineering, Maintenance of Structures, Restoration of Structures, Geo technical Engineering, Irrigation Engineering, Disaster Assessment & Management, Surveying, Concrete Technology and Computer Aided Design and Planning.
This branch deals with the construction, designing and maintenance of the physical construction which includes, roads, bridges, canals, dams, and buildings etc. After completion of the bachelor level Civil Engineering program, graduates may go for various Master programs and specialize in its related disciplines.
Career Scope:
A career after civil engineering is highly rewarding. There are jobs available for civil engineering candidates that involve supervision, construction, design and analyzes of private as well as public projects, such as dams, highways, canals, water sewages and bridges.
The common job roles done Civil engineers are as follows.
Chief Engineer
Site supervisor/ Engineer
Resource Management Officer
Consultant
Mechanical Engineering:
Mechanical engineering is the branch of engineering that involves the design, production, and operation of machinery. Mechanical Engineering covers topics such as- Engineering Mathematics, Physics, Fluid Mechanics, Dynamics of Machine, Theory of Machine, Electrical Machine and Management, Material Science, Production Engineering, Industrial Drafting, Quality Engineering, Machine Design, Product Design, Thermodynamics, Kinematics of Machine etc.
This engineering applies engineering, physics, and materials science principles to design, analyze, manufacture, and maintain mechanical systems.
Career Scope:
There is great demand for skilled mechanical engineers in different segments of the industry, such as traditional manufacturing industries such as, aviation, aerospace, power plants, shipping, automobiles and machinery manufacturing. Mechanical engineering graduates can get employment opportunities both in government and private sector also.
We mention some job types related to Mechanical Engineers below.
Quality Control Engineer
Automotive Engineer
Machine Design Specialist
Production Engineer
Maintenance Engineer
Computer Science Engineering:
Computer Science/Information Technology is one of the most important and demand branch engineering. It deals with the basic elements of computer programming and computer networking. The computer engineering students learn about the practical and theoretical elements of computer engineering and foundations of computing, and about both computer software and hardware.
This engineering discipline covers the subjects like program languages, operating system concepts, database systems and software engineering etc. The students need to decide which they want to focus either hardware or software engineering. The computer science engineering courses offers internship programs for the students to gain extra knowledge and practical experience.
Career Scope:     
After successful completion of computer science engineering course, the candidate can work in many areas such as database management, Information technology, telecommunications, computer software and hardware implementation and development, multimedia, web designing and its related areas.
The job roles of computer engineers are listed below.
Computer Programmer
Software engineer/ Hardware Engineer
Engineering Support Specialist
Professor
System designer
Electrical and Electronics Engineering:
Electrical and Electronics Engineering is one of the important engineering discipline. It is the study of application of electricity and electronics. The specialists in this field are known as electrical engineers.
These engineers are working on testing, developing and designing of electrical equipment. Electrical engineers also design the electrical systems of aircraft and automobiles. They develop and design the electrical equipment such as communication systems, electronic motors, radar and navigation systems etc.
Career Scope:  
The electrical engineers get good employment opportunities in various industries such as IT, automotive, manufacturing, power, transport and construction etc. Moreover, electrical engineers may take part in development and research as assistants to scientists and other engineers.
Some of the job types related to electrical engineers are given below.
Development and Test Engineer
Electrical Product Design Engineer
Workshop Manager
Engineering Technologist
Project Manager
Marine Engineering:
Marine Engineering is another branch of engineering and it includes the design, construction, maintain ace of structures and vehicles used on the water. This engineering technology and techniques are helpful to create ships, harbors and oil platforms etc.
Marine engineers are also called as ship engineers. These engineers design the onboard systems such as steering and control systems, propulsion systems etc. These also create the vessels which we use to navigate the lakes and oceans.
Career Scope:
The career opportunities for the marine engineers is vast across the world. They play a vital role in many fields like naval defense, environmental research, international and resource extraction etc.
Let's see some job roles of Marine Engineers are given below.
Energy Engineers
Naval Architect
Ocean Engineer
Marine Engineer/ Marine Technician