Introduction: A pharmacy is a place where the medicinal drugs are prepared and sold. It is an important branch of medical science where the medicinal drugs are prepared with various combinations of chemicals which give soothing to the patient from his disability or disease permanently or to some extent. The pharmacists or chemists play an important role in the medical field next to a professional doctor (MBBS). Read out complete article for complete Pharmacy Courses Details.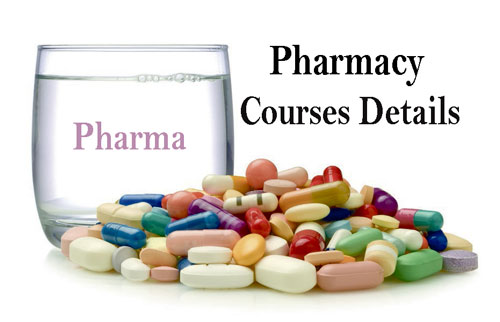 About Pharmacy
The Pharmacy is also known as a medical lab where the medical drugs are manufactured with various chemical combinations in which the patient feels relaxed while using those medicines. The chemists prepare the medicines using various chemicals, tests them whether it suits the patients or not and then dispenses them in the pharmacy. They manufacture bulk of medicines according to the health problems of the patients.
Read Complete Pharmacy Course Details Here
There are various courses introduced in Pharma Sciences in various courses. Some of the courses of Pharma Groups are as follows:
Type of Courses Available
Duration of the courses
The duration for Pharmacy courses are as follows:
The duration diploma courses in Pharmacy Group is 2 years after 10 + 2.
The duration of Pharmacy for a bachelor degree is absolutely 3 years.
The duration of Pharmacy in post-graduation degree is obviously 2 years.
Eligibility for Pharmacy Courses
The eligibility requirements for various Pharma courses are hereunder:
To attain a bachelor degree in Pharm Groups, one should complete 10 + 2 with Physics, Chemistry and Biology as their basic stream with an aggregate of 60%.
To attain a post-graduate degree in Pharm Groups, one should complete his bachelor degree with an aggregate of 65%.
Fee Structure
The fee structure for various Pharmacy courses details are as follows:
For diploma courses, the fee may be Rs.1, 50, 000/- per annum.
For Bachelor of Pharmacy courses, it is Rs.2, 50, 000/- per annum.
For master degree courses, it ranges between Rs.4, 00, 000/- per annum.
Pharmacy Courses Details -Top Colleges
The colleges that hire Pharmacy courses in India are:
Govi College of Pharmacy, Karnataka
Mumbai College of Pharmacy, Maharashtra
PES College of Pharmacy, Bengaluru
AISSMS College of Pharmacy, Pune
Institute of Pharmacy, West Bengal etc.
Pharmacy Career
The career with Pharmacy leads to a bright future. There are excellent job opportunities in and around India.
Job Titles
The person who completes his Pharmacy courses can acquire job titles as:
Pharmacist
Lab Technician
Pharma Doctor
Research Manager
Sales Representative Etc.
Companies for Pharma
The candidates who attain Master Degree in Pharma courses can acquire jobs in various hospitals and medical organisations which are reputed in and around India. Some of them are:
Salary Packages
The company or a medical organisation hires a Pharma student with a salary package ranging from Rs.20, 000/- for fresher and may vary according to the person's designation and experience.
We suggest you please go through the complete article, choose the best course and Institute and be successful in your life. All the best.