The scientist is one of the different fields very few people choose this as their career. To become a scientist you should have a lot of knowledge, sharp ideas and a good remembrance power. If you want to become a scientist then read our article. This article provides the definition of scientist, types of scientists, How to become a Scientist and much more.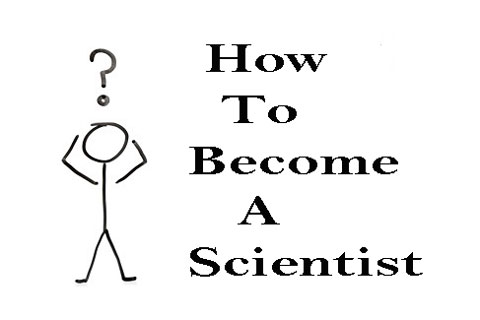 Who is a Scientist?
A scientist is a person engaged in a systematic activity to acquire knowledge that describes and predicts the natural world. To become a scientist a person should be expertise in one or more fields of science. The word scientist was invented by a theologian philosopher William Whewell.
How to become a Scientist
If you are looking for How to become a Scientist please read out our complete article.
Skills Required for becoming a Scientist
Required dedication to the work and work tirelessly for hours.
Sharpen your writing skills
Ability to work independently
Keeping the knowledge up to date.
The candidate should have skills like presentation skills, time management, computing skills etc.
Eligibility for Scientists
The minimum education required to become a scientist is passing 10+2 exam.
After 12th standard, go for a graduation course like B.Sc or B.Tech in your field of interest.
After graduation plan for your master's degree in related field.
After getting master's degree the aspiring scientists can apply for a doctoral degree PhD.
Types of Scientists
There are so many types of scientists. Here we have mentioned only some types.
Astronomer
Geologist
Entomologist
Computer scientist
Marine biologist
Physicist
Zoologist
Ornithologist
Data scientist
Astronomer Scientist
An astronomer is a scientist in the field of astronomy who concentrates their studies on a specific question or field outside the scope of the earth. The word astronomy is the branch of science that deals with celestial objects, space and physical universe as a whole.
Astronomer scientists are of 2 types. They are observational and theoretical. The direct observation of stars, planets and galaxies comes under observational astronomers. Theoretical astronomers create and investigate models that cannot be observed.
Geologist Scientist
The study of solid and liquid matter that constitutes the earth as well as the process that shape it is a geologist scientist. These scientists include a study of physics, biology, chemistry and geology.
Entomologist
It is a zoology branch. The study of insects is called entomologist. The person who studies on insects and have knowledge in zoology is called entomologist scientist.
Computer Scientist
    The study of theoretical foundations of information and computation and their application, who has acquired the knowledge of computer science, is called a computer scientist.
Marine Biologist
      A marine biologist is a scientist who studies about the sea creatures and specialisation study in large ocean animals.   Everything from whales to plankton can be studied.
Physicist
An expert in physics can be known as a physicist. A physicist scientist is a one who has a specialisation in fields of physics.
 Zoologist
     The study of animals and the observation of their habitat in the lab are called as zoologist scientist. The zoologist studies the development of species, their habitats, behaviours and interactions.
Ornithologist
    A person who studies on birds is called as ornithologist scientist. The ornithologist studies the physiology, behaviour, and habitat of birds.
Salaries of different Scientists
In India, the astronomer scientist salary on average is 8lakhs per year.
The salary of geologist scientist in India is around 5lakhs per year.
The entomologist draws a salary of around 6lakhs per year in India.
The salary of computer scientists in India is 8k to 25k per month.
The marine biologist draws a salary of around 9lakhs per year.
The average salary of physicist scientist is around 5lakhs per year.
The salary of zoologist scientist is 8k to 25k per month.
The pay scale of ornithologist scientist is 15k to 30k per month.
Scientist's Jobs
The scientists jobs profiles includes researchers, lecturers, government jobs, patent agency, data scientist, engineering geologist, well site geologist, mud logger, pest control worker, system analyst, computer programmer, network systems administrator, lab technician, design engineer, applications engineer, toxicologist, healthcare scientist, forensic scientist, nature conservation officer, ecologist, field trials officer, bird conservation technician, research assistant and many more jobs.
Employment Areas of Scientists
Indian Space Research Organisation (ISRO)
National Aeronautics and Space Administration (NASA)
Defense Research and Development Organization (DRDO)
Bhabha Atomic Research Center (BARC)
Council of Scientific and Industrial Research (CSIR)
Aryabhatta Research Institute of Observational Sciences (ARIES)
Indian Council of Medical Research (ICMR)
Agricultural Scientists Recruitment Board (ASRC)