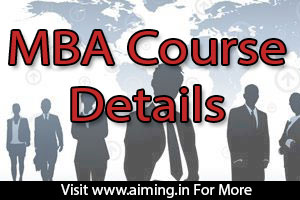 MBA COURSE DETAILS: MBA means Master in Business Administration. It is an internationally recognised degree. MBA course is versatile and it is used internationally. MBA is having huge demand in the business administration industry. Candidates who completed MBA course from top b schools will be able to get good packages since they will get placed in top level management companies. It is a 2 year course and has demand across the globe. MBA course demand is increasing because of increasing MNCs and industries across the world.
MBA COURCE ELIGIBILITY
For pursuing MBA courses, the candidate should complete his or her bachelor degree with minimum of 50% marks and 45% in case of SC/ST students. Age is not taken into consideration  for pursing MBA course. If the candidate wants to get specialization in MBA course, then he or she must have full time work experience of at least 2 years.
MBA Course Details of Entrance Examinations
For getting admission top b schools candidate should pass the entrance test which will be conducted by the b school.
| | | | | |
| --- | --- | --- | --- | --- |
| MBA Entrance Exam Name | Exam Date | Application Begins | Application Ends | Results |
| CAT | NOV | AUG | SEP | DEC last week (Tentative) |
| XAT | JAN | AUG Last week | NOV | JAN last week (Tentative) |
| CMAT | JAN 1st week | DEC | DEC (Tentative) | JAN |
| SNAP | DEC | AUG | NOV | JAN |
| NMAT by GMAC | OCT – DEC | JULY | OCT | JAN |
| IIFT | NOV | JULY | SEP | DEC (Tentative) |
| ATMA | DEC (Tentative) | OCT first week | DEC first week (Tentative) | DEC last week (Tentative) |
| IBSAT | DEC | AUG | DEC | JAN |
| MICAT | DEC | SEP | DEC | DEC |
| MAH-CET | MARCH (Tentative) | FEB (Tentative) | FEB (Tentative) | MAY (Tentative) |
| IRMA | JAN (Tentative) | SEP (Tentative) | DEC first week | FEB (Tentative) |
| KMAT | AUG (Tentative) | June (Tentative) | JULY (Tentative) | AUG (Tentative) |
| Tancet | MAY (Tentative) | APRIL (Tentative) | APRIL (Tentative) | JUNE (Tentative) |
| MBA | | | | |
MBA Salary in India:
In the current scenario, management courses are highly in demand. Here we present a list of Best colleges for MBA with Highest Salary Package in India in addition to the respective course offered. Starting salaries after completing MBA varies according to various parameters: College, Stream/Specialization, Company Placed, Applicants Profile and also Experience. As per my view Good Salary Package's are directly depends on your Knowledge and your hard work.
If you want more information read the

comments

given by other users and ask your doubts in the comments section after reading this post completely.
Below table represents the job wise expected salaries offered by top companies like Hero Motocorp, Engineers India, Mahindra & Mahindra, Muthoot Finance, Maruti Suzuki, Apollo Hospitals, Tata Motors, Mahindra Holidays, Bosch, Larsen & Toubro, State Bank f India, BATA, Radico Khaitan, Shell, Finolex Cables, Hindusan Unilever, Bharat Forge, Asian Paints, Ultratech Cement, Vedanta Group, Kajaria Ceramic, Rallis India, Pidilite Ind, Lupin Laboratories, ITC Limited, Bharti Airtel, HCL Ltd, HDFC Bank, Wipro Infotech, ICICI Bank, J Kumar Infra, Jet Airways, DS Kulkarni, MRF Tyres, Omaxe Housing, Welspun Poly, LG Electronics, Shipping Corporation of India, Whirlpool, Shoppers Stop, Amazon, SAIL
| | |
| --- | --- |
| Job Title/Name | Salaries (Per Annum) |
| Operations Manager | Rs 744,930 to Rs 1,206,777 |
| Quality Control Manager | Rs 549,320 to Rs 877,720 |
| Accounts Manager | Rs 574,110 to Rs 1,267,777 |
| Sales Manager | Rs 447,620 to Rs 1,851,550 |
| Marketing Manager | Rs 492,830 to Rs 1,845,630 |
| Human Resource Manager | Rs 508,220 to Rs 1,231,280 |
| Project Manager | Rs 584,660 to Rs 1,814,620 |
| I.T. Manager | Rs 544,930 to Rs 1,206,777 |
| Procurement/Purchase/Vendor | Rs 449,320 to Rs 877,720 |
| Business Development Manager | Rs 475,110 to Rs 845,777 |
| Pharma Product Manager | Rs 447,620 to Rs 1,051,550 |
| Business Analyst | Rs 502,830 to Rs 945,630 |
Types of MBA Specializations
There are many different types of MBA programs. The information below provides you with an overview the different types of MBA specializations available.
The various Specializations of MBA are:
Banking.
Biotechnology.
Brand Management.
Business Administration.
Business Management.
Clinical Research.
Construction Management.
Economics.
Fashion Designing.
Finance.
Health Care.
Hospital Administration.
Hospitality Management.
Hotel Management.
Petroleum Studies.
Pharma.
Public Relations.
Real Estate.
Retail Management.
Rural Management.
Sales & Marketing.
Supply Chain Management.
Telecom Management.
Human Resources ( HR).
Information Technology.
Infrastructure Management.
Insurance & Risk Management.
International Business.
Logistics.
Marketing.
Materials Management.
Media.
Oil & Gas.
Operations Management.
Personnel Management.
What Type of Courses Available in MBA?
Are you searching for the types of MBA's Available in India? Here you can get the information. There are a variety of MBA programs to fit your schedule. Many colleges and universities offer 2 year full time M.B.A, Part-time MBA programs, Executive MBA programs, Distance learning.
2 Year Full Time M.B.A
This type of MBA normally takes place between two academic sessions. This course takes approximately 2 years to complete .You can do 24 months regular programme from any of the M.B.A institutions.
Part-Time MBA Programs
The concept of Part time MBA comes from the need of those students who wants to do an MBA but do not have enough time to devote for a full time due to prior engagements.
Executive MBA Programs
The executive MBA allows the students to earn an MBA or another business-related graduate degree in 2 years or less while working full time. Participants come from every type and size of organization – profit, nonprofit, govt and also can represent in a variety of industries.
Distance Learning
The distance learning programme is of 2 year. It is for those students who have not enough time to go for regular studies.
MBA Course Fees Details of Entrance Exams
The candidates should check the fee details in the corresponding examination's official website. Some of the fees details of entrance exams are given below.
AIMA-MAT fee could be 1200rs.
CAT fee could be 1600rs.
CMAT fee could be 1400rs.
MBA Course Syllabus & Fees Structure
MBA course fee varies according to the institution standards. MBA syllabus and subjects will vary based on the university. Candidate can check the fee syllabus and subjects in the respective institution's official website. Top 10 institutions are listed below.
Top10 Institutions or B-schools in India Offering MBA Course
| | | | |
| --- | --- | --- | --- |
| S.No | MBA Institute | Location | Institute Website |
| 1 | Indian Institute of Management | Bangalore | www.iimb.ernet.in |
| 2 | Indian Institute of Management | Ahmadabad | www.iimahd.ernet.in |
| 3 | XLRI-Xavier School of Management | | www.xlri.ac.in |
| 4 | Indian Institute of Management | Calcutta | www.iimcal.ac.in |
| 5 | FMS- Faculty of Management Studies | Delhi | www.fms.edu |
| 6 | Management Development Institute | Gorgon | www.mdi.ac.in |
| 7 | Indian Institute of Management | Lucknow | www.iiml.ac.in |
| 8 | S.P. Jain Institute of Management and Research | Mumbai | www.spjimr.org |
| 9 | Indian Institute of Management | Indore | www.iimidr.ac.in |
| 10 | Indian Institute of Foreign Trade-IIFT | | www.iift.edu.in |
MBA Course Job Opportunities
Since MBA course study is little bit expensive, it is important to know the job opportunities. Most of the b schools charge high amount, the job opportunities also worth it.MBA graduates has wide range of jobs in many fields in different subjects. MBA course job opportunities include the following and The pay of the jobs is according to the experience of the graduates and their course in MBA.
Market Research Analyst.
Marketing Manager.
Advertising Manager.
Human Resources Manager.
Management Consultant.
Banking and Finance.
Information System Management.
Also Read MBA Careers
What Next After MBA?
This is another common question I received from the regular visitors. Most of them asked me about What to do after MBA. I will try to answer this question. After MBA if you don't have a job offer in hand you just go for some course to do, I strongly suggest you apply for SAP Certification Course or PhD wherever possible.