SAP Course Details: Many people are searching for the S.A.P Course details and it is one of the most popular and useful certification to boost the career. This article may help to find the answer for questions like "what is sap course, what is sap software" etc. SAP full form is "Systems, applications & products in Data Processing". SAP definition is for the ERP software and same name for the company also.
About SAP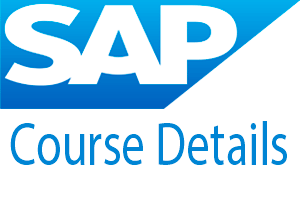 SAP means a German multinational software company. It makes the enterprise software to manage business operations. These enterprise software's are also known as ERP's.
Now you may got a doubt "What is ERP ?". ERP is software used in the businesses to automate many tasks. ERP's are the set of important tools which are used to handle the business processes like inventory management, human resources management, Sale management, Customer relationship management etc. There are so many ERP software's for different tasks ex. Microsoft Dynamics is an important alternative for S.A.P. There are many online and cloud based ERP's available in the market.
Importance of SAP
S.A.P is a largest company and its products are used by a wide range of businesses around the world. SAP course completed candidates can improve their chances in the job market. They are experienced in the designing input screens, creating ware houses of information, essential programming skills etc. to perform many tasks in the business.
What is SAP Certification?
SAP Certification is an exam conducted by SAP AG, it is increasingly becoming important for the career of employees. Not just regional job prospects, but SAP entertains hiring across the world. SAP is a globally recognized business platform in various functional fields including Financial Accounting and Controlling (FICO), Production Planning (PP) and Materials Management (MM). The SAP Certification is most demand in both production facilities are managerial workplaces, with companies coming up with a wide spectrum of SAP facilitated modules.
SAP certification is divided into 2 types of courses
One being more functional and
The other being more technical
The SAP Certification is recognized globally and is a standardized criterion for several roles and responsibilities. Click here for More SAP Certification Details
SAP Courses in India
In fact, training is available in Institutes held over SAP Courses in India, SAP Course in Pune, SAP Courses in Mumbai, SAP Course in Delhi, SAP Course in Hyderabad, SAP Course in Chennai, SAP Course in Kolkata. SAP training can take many forms and among the various modules offered on SAP.
SAP Modules
By specializing in any of the sap module a candidate can enhance their career. There are so many modules in the course. But having a certification not guarantees the job or success because skills and experience plays a key role along with experience. For example "a photographer is not selected based on his certifications and selected based on his portfolio". Below is the list of some SAP Modules
Technical Grade SAP Modules
ABAP (Mainly programming using ABAP. Having programming knowledge is good.)
BASIS etc.
Functional Grade SAP Modules
SD (Sales & Distribution)
HRM (Human Resources Management)
FICO (Finance &Controlling)
PP (Production &Planning)
MM (Material Management)
CRM (Customer Relation Management)
SCM (Supply Chain Management)
SD with CIN etc.
See Detailed SAP Sub Modules from following links
SAP Course Online Training
Hi students!! Welcome to sap online training we are providing the SAP modules, courses, and best sap online training institute services, professional SAP Experts, SAP Tutorials.
List of Institutes for SAP Training Courses in India:
INFINITI Consulting, Hyderabad
Path Reminder Software Solutions, Hyderabad
Soft Learn Technologies Pvt Ltd, Hyderabad
Sky Info Technologies Pvt Ltd
Unisoft India
Eligibility for SAP Course
Candidate need to be a graduate in Engineering, B.com, B.Sc, MCA or completed Master's degree.  If the candidate has any experience in the relevant fields like production, purchase or other it will be an added advantage to grab the related SAP Module.
About SAP Course Fees
Course is very expensive but it's a very valuable course to boost your career. There are so many modules and S.A.P course fees for each module are different. SAP course fees may vary between 30,000 to 2lakhs and also depends on the institution also. Additional cost for certification. If coaching is taken from the Authorized institution then the cost will be high when compared to normal institutions.
See: Demand Draft (DD) Details
Duration of SAP Course:
There is no specific time duration for this course. However the time duration may last for 8 to 12 weeks if you go for full time course.
SAP Course Syllabus
you can find some information in the following link.
https://drive.google.com/file/d/0By5qPgbHdghOMl9rX0NNeExCc1E/view?usp=sharing