Business Administration involves various activities for successful running of any business organization. The business administration includes performance of business operations, decision making and efficient organization to direct the business activities towards common goals. Generally business administration includes management functions like finance, management information systems and personnel organization. Business Administration is specifically associated to technical and operational aspects of an organization. Administrator acts as manager of the business organization and oversees the managerial positions, follow company policies and work efficiently to achieve company goals and objectives. Now let's look for Diploma in Business Administration courses.
Business Administration Courses
There are various Business Administration courses introduced at various levels. Some of them are:
Diploma in Business Administration (DBA)
Certifications in Business Administration
P.G. Diploma in Business Administration (PGDBA) etc.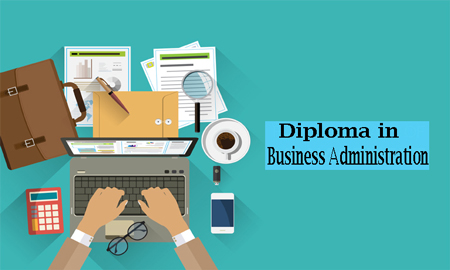 Diploma in Business Administration in India
There are courses offered under Diploma in Business Management in India at various levels. DBA course helps the students to attain knowledge and skills to face challenges in the business sector. The course studies or explains the methods to tackle the problems that arise in the business organizations and creates the ability to accept challenges, face them and transform the situation into an opportunity. The persons who attain this diploma course can avail jobs under corporate sector at entry-level itself. Now let's look for various courses under Diploma Business Administration in India.
Distance Learning Diploma Business Administration
Advanced Diploma in Business Administration
Online Diploma Business Administration Courses
Firstly, let's look for the DBA courses after 10th, 12th and Graduation.
DBA Courses after 10

th
Diploma in Business Administration is the only course to pursue after 10th.
DBA Courses after 12

th
DBA courses after 12th include Advanced Diploma in Business Administration (ADBA) and Advanced Diploma in International Hotel & Business Administration (ADIHBA).
Now let's look for Diploma Business Administration course in Distance Learning.
DBA in Distance Learning
This provides an opportunity to the students of various fields to avail a distance education in the field of management. This is one of the imperative domain of fast growing business sector. This course enables the aspirants to attain working knowledge under management departments like finance, marketing, and human resources etc. This courses finally helps the students work with a range of abilities to work independently as a successful business man or entrepreneur. The duration for DBA under distance education is 1 year and fee might be approximately Rs.20, 000/-.
DBA Course Details
DBA course consist of course details like duration, eligibility and fee structure.
Course Duration:
The duration of the course is obviously 1 year.
Eligibility:
The eligibility for DBA course is 10th and 12th.
Course Fees:
The fees for DBA might be in between Rs.15,000/- to Rs.20,000/-.
DBA Syllabus:
The syllabus for Diploma Business Administration is as follows:

| | |
| --- | --- |
| Semester 1 | Semester 2 |
| 1) Leadership & Organizational Behavior | 1) Technology & Operations Management |
| 2) Management Information Systems | 2) Human Resources Management |
| 3) Corporate Communication | 3) Marketing Management |
| 4) Managerial Economics | 4) Managerial Finance |
| 5) Quantitative Methods | 5) Entrepreneurship |
Now, let's look for colleges of Diploma in Business Administration course.
DBA Colleges:
There are various colleges for DBA in India and abroad. Let's look for colleges in India and abroad:
DBA in Bengaluru:
National Institute of Retail Management, Xavier's Institute of Business Management and National Institute of Business Administration are the best colleges providing Diploma in Business Administration.
DBA in Canada:
Diploma in Business Administrative Professional, Business Administration Diploma and Diploma in Business Administrative & Management and Honors Business Administration etc. are the courses that comes under DBA courses in Canada under Universities and Colleges like Trios College, Sprott Shaw College, Vancouver Career College, Reeves College, Bow Valley College etc.
Also, See-
About Diploma in Business Management
About Diploma in Nursing Course
About Best Courses in Communications