Courses after 12th in arts stream: There are many courses for 12th completed students who are from arts stream. This article provides the complete information of the list of Courses after 12th Arts Stream, eligibility, subjects, advantages and disadvantages compared to science stream. Arts discipline is one of the most distinct fields among the three i.e. Arts, sciences and commerce. There are a lot of course after 12th in India.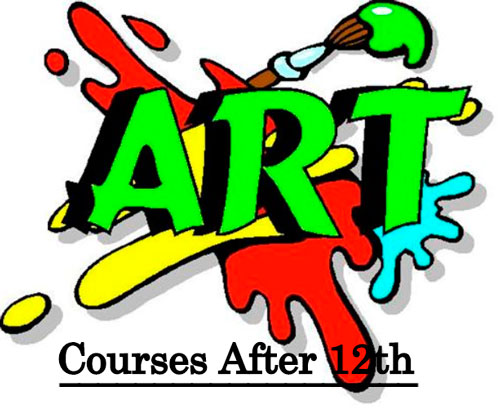 List of Courses after 12th Arts
Bachelor of arts-history, psychology, economics, sociology, archaeology, Indian culture, English, Hindi, B.A (state-wise languages).
F.A-Bachelor of fine arts
Management-BBM, BBA, BMS,
Designing – fashion, interior
Animation and multimedia- web design, graphic design, animation, multimedia
Integrated law course B.A+LLB
Aviation, travel, and hospitality-hotel management, travel and tourism, event management
Film/media/journalism-media management, mass communication, journalism
Other courses include creative arts, photography, acting/modeling, foreign languages, airhostess, literature, political science
Details of Courses After 12th Arts Stream
B.A Course Details
B.A stands for Bachelor of Arts. It is a three year under graduate degree program where there is a less syllabus. The eligibility to pursue this course is clearing a 12th standard exam from a recognised college. The advantage of this course is it is easily available in almost all colleges throughout the India. The students who are aiming a government job it's an easy course to complete their graduate degree because many of the government jobs are asking the minimum eligibility graduate.as it is the easy course the students can complete their graduate degree and they can have time to prepare for government jobs. Based on your interest you can choose a subject in which you're interested.
Important subjects in B.A
History of cultures
English
Literature
Visual art studies
Study of materials
Workshops
After B.A one can do their master's degree M.A. B.A graduates may grab a chance into government sectors like banks, police force, and armed force and in schools as teachers. They may also go for privates companies in fields of accounts, managing and administration.
B.F.A Course Details
B.F.A stands for Bachelor of Fine Arts. This professional course duration is 3years.The eligibility to avail this course is the 12th completion. As it is a visual form of arts the subjects included in this course are music, painting, sculpting, dance etc. It is best to choose this course that who have creative skills. In India, there are many private institutes and government colleges who are providing this graduate program.
Management Course Details
Management is one of the courses which provide a good career to one who has completed their 12th. The duration of this management course is 3months. There are three streams related to management course they are B.B.A, B.B.M, B.M.S
B.B.A Course Details     
B.B.A stands for bachelor of business administration. The one who wants to jump into the world of management can choose this course. The duration of this BBA course is 3years. After completion of this graduate one may be able to do their M.B.A. B.B.A graduates are mostly hired by business houses and corporate offices.
Important subjects in B.B.A
Accounts
Marketing
Statistics
Financial management
Business communications
Human resource management
Entrepreneurship skills
B.B.M Course Details
B.B.M stands for bachelor of business management. This graduate program comes under management. The duration of this BBM program is 3years. The students who want to develop their management skills and gain in the corporate world can choose this course. Those who have an interest in the teaching profession in higher degree level it's the best option for them. After pursuing this degree one can do their master's degree. There is a good career to one who chooses this course to avail jobs in fields like sales, marketing, retail, distribution, financial institutions.
Important subjects in B.B.M
Business laws and ethics
Marketing
Management Information systems
Finance
Economics
Operations research
B.M.S Course Details
B.M.S stands for bachelor of management sciences. It's an undergraduate program with the duration of three years. The students who have completed their 12th can avail this course. The course makes you access the knowledge and skills needed to understand business management in many organisations. This BMS course allows you to know how organisation is worked, how they are managed, how they interact with local, national and international environments. This graduate degree allows you to seek jobs in public, industrial and commercial sectors.
Important subjects in B.M.S
Micro economics
Accounting
Business law
Organizational Behavior
Finance
Organizational strategy
Designing Course Details
Designing is an education which associates converting artistic talent and creativity in designing products like textiles, jewellery, clothes, footwear and other accessories. There are two courses related to designing they are fashion /textile designing, interior designing.
Fashion Designing Course Details
Fashion Designing is a three-year undergraduate program. The eligibility of this course is a completion of 12th standard and the candidate should have the creativity artistic skill. This degree involves the creation of designing original designs on garments, footwear, and jewellery. This course involves the latest fashion trend in the market. The career opportunities of this course include designing garments, footwear, fashion accessories in industries, one can open their own fashion house to exhibit their designs.
Important subjects in fashion designing
Color mixing
Computer aided design
History of costumes
Elements of textiles
Fashion studies
Textile science
Leather designing
Fabric dyeing and printing
Interior Designing Course Details
Interior designing is a three-year graduate course. Interior designing is closely related to architecture as it involves designing buildings. This designing contribute education on building, lighting, construction, colour and furniture. The Interior designing course syllabus involves understanding with a design of places and spaces like commercial places, public building, and interior of a home.
Important subjects in Interior designing
History of interior
Graphics
Working drawing
Computer
Interior services
Seminar reports
Practical training
Contemporary interiors
Communication skills
Animation and Multimedia Course Details
Animation and Multimedia courses are the ones which is on demand course having good career opportunities. There are four courses related to animation and multimedia. They are animation, multimedia, graphic design and web design.
B.F.A Animation Course Details
B.F.A animation stands for bachelor of fine arts in animation. It is a four-year undergraduate program. The eligibility for this course is the completion of 12th standard from a recognised school or college.
Also See Art Therapy Course Details