After Bachelor's Degree graduation most of the students opt for their Master's degree in India. PG Courses in India are also very demanding. There are thousands of short-term, part-time, full-time PG Diploma and PG degree courses in India on offer after Diploma, Graduation, B.Com, BCA, BBA, Engineering from different institutes and colleges in India.
By providing information, We help you find the best postgraduate courses and top PG diploma, degree courses in all over India like Delhi, Mumbai, Bangalore, Pune, Chennai, Hyderabad, Kolkata, Chandigarh, Jaipur, Noida, Gurgaon, Ahmedabad, etc.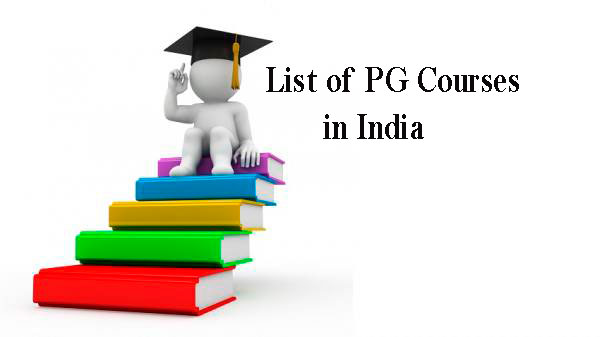 In India, Postgraduate program is being offered by many good institutes. After passing graduation, one can go for these postgraduate degrees like M.B.A, M.C.A, M.A, M.Com, M.B.S, M.Ed, MSc in Agricultural Biotechnology, Analysis of Foods, Drugs and Water, Analytical Chemistry, Anthropology, Applied Chemistry, Applied Mathematics, Bio-Inorganic Chemistry, Biochemistry, Biotechnology, Botany, Coastal Aquaculture & Marine Biotechnology, Computer Science, Computer Science and Statistics, Electronics & Instrumentation, Environmental Chemistry, Environmental Sciences, Fishery Science, Food, Nutrition Drugs and Water, Foods, Nutrition & Dietetics, Geography – B.A (Stream), Geography – B.Sc.(Stream), Geology, Geophysics, Horticulture & Landscape Management, Human Genetics, Hydrology, Inorganic Chemistry, Marine Biology and Fisheries, Marine Biotechnology, Marine Chemistry, Marine Geology, Marine Geophysics, Meteorology, Microbiology, Nuclear Chemistry, Nuclear Physics, Organic Chemistry, Physical Chemistry, Physical Oceanography, Physics, Space Physics, Statistics, VLSI Design, DSP & ESD, Zoology
Different PG Courses in India has different requirements. These courses also help one specialize in the certain field. Now we give you a list of top most popular Post-graduate courses from every stream.
List of PG Courses in India
Depending on your interest & course availability, yo can choose one of them:
Master of Arts (MA)
Master of Science (M.Sc)
Master of Commerce (M.Com)
Master of Engineering/Technology (ME/M.Tech)
Master of Law (LLM)
Master of Pharmacy (M.Pharma)
Master of Architecture (M.Arch)
Master of Dental Surgery (MDS)
Master of Homeopathic Medicine & Surgery (MHMS)
Master of Ayurvedic Medicine & Surgery (MAMS)
Doctor of Medicine (MD)
Master of Physical Education (M.P.Ed)
Master of Education (M.Ed)