Course Objective: MBA in Airlines & Airport Management is a demandable and expensible course in the society. It is the course that involves all managerial aspects like airport management, aircraft maintenance, cabin crew or airhostess and ground staff etc. The course provides practical knowledge and training for the use of equipment or tools and training in hospitality towards passengers etc. Airport management deals with the management of entire functions of airport. By this, we can say that the course have a good scope in present and future too. This post-graduation course can be pursued by the people who have interest in management towards Airline & Airport Management (AAM). This course comes under University degree or a part-time course.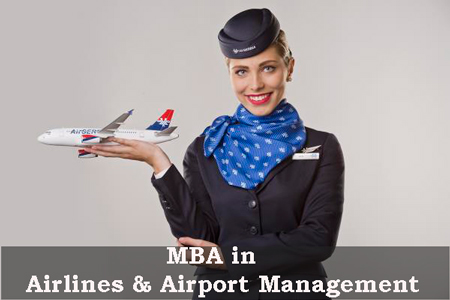 Why MBA in Airline & Airport Management?
We all get a doubt that "Why should we do MBA in Airline & Airport Management?" – MBA is a business administration post-graduation course which helps the students to administer any type of the business organization effectively and efficiently. In the same way, MBA is useful for Airline and Airport Management to administer and manage all the activities that take place in Airlines and Airport companies. Let's look out for some of the uses of MBA in AAM course.
Airlines and Airport industry in India is expected to grow with a growth rate of 30%. India needs 400 airports and 400 aircraft for the next decade.
The global changes are taken place day by day with rapid changes and increasing demands towards airline and business executives stay relevant, adopt new technologies and manage stakeholder expectations.
There are 60 Indian airports that are classed and are capable to handle commercial air passenger and cargo services.
Though aviation industry has an exponential growth, India announced an ambitious airport development plans which are greatly enhanced to country's capacity for commercial air travel.
There are 24 international passenger and cargo airports and 36 regional airports in India.
Aviation Management deals with managing a large number of employees, passengers and operations related to AAM.
Thousand tonnes of cargo and millions of passengers are passed through airlines and airports every year. All these passengers demand quality customer service apart from his timely operations.
India's target is to double the number of international and regional airports within next 12 years.
The career in AAM offers with opportunities to travel, meet new people and gain new experiences in all parts of the world.
The country's Civil Aviation Ministry announced intends to build a host of new international airports in Greenfield in addition to redeveloping existing smaller airports.
Duration of the course
This is a post-graduation course having duration of 2 years with 4 semesters.
Eligibility Criteria
The eligibility criteria for this course is to complete Bachelor's degree from a recognized University under any discipline. MBA in Airlines & Airport Management is ideal for people in who is willing or interested in management under aviation industry.
Admission into PG Courses
Candidates who scored 50% for each paper in University examination and obtained 60% marks both in University exam and internal assessments together can be shortlisted for the course. Shortlisted candidates will be classified under classification norms of the institutions.
MBA in Airlines & Airport Management Subjects
The subjects that cover under MBA in Airlines & Airport Management course are as follows:
| | |
| --- | --- |
| International Airlines & Airports | Carrier Operations Management |
| Airport Support Services & Facilities | Airport Financial Management |
| Air Traffic Management & Control Systems | Airport Operations Management |
MBA in Airlines Airport Management Course Curriculum
MBA in Airlines & Airport Management is a post-graduation course with 4 semesters and conducts or provides job internship programs in institutions which provides this course.
Course Highlights
The highlights of MBA Airlines and Airport Management Course are as follows:
The relevant syllabus is issued at the beginning of the course. The Institutes or colleges arrange supply of study materials for their students.
Though the institutes provide study materials, the students have to prepare their notes by some prescribed reference books.
Institutions conducts examinations like classroom tests, assignments and seminars to assess the knowledge and performance skills of the students by their marks under the course.
The marks which are scored by the student's subject wise will be displayed on the notice board of the institute and the assessment will be sent to the Controller of Examinations.
Model question paper for all subjects will be published in the University's website during October and March of every year.
The curriculum of the course includes seminars, projects and assignments on the job related trainings at Coimbatore Airport.
At the end of the course, the students attain MBA certificate under any recognized university.
MBA & BBA Certification
The Air Travel industry is a dynamic with highest growth potential. Over 250 million people are working in various sectors and among them 57 million are in aviation and thousands of people are joining every year.
How will you make up your mark?
MBA in Airlines & Airport Management provides instant worldwide recognition of your achievements. It provides opportunities to prove the knowledge and skills towards market. With proper training and knowledge of the industry make sure that you're on top of the game and at same time earn the necessary credentials that are globally recognized.
Career prospects
The job roles under this course might be airport manager, airhostess, ground staff, cabin crew etc. in airports and the salary may range between Rs.20, 000/- to Rs.30, 000/- per month.
Also See
Airport Management Courses Details
Aviation Management Courses Details