Foundation Courses: FoundationCourse is mainly preparing the students for the more advanced study of university art and design education. It includes one specific subject or a wide range of subjects. Are you looking for the complete details of Foundation Course and other details of the course, we are providing those details in this article.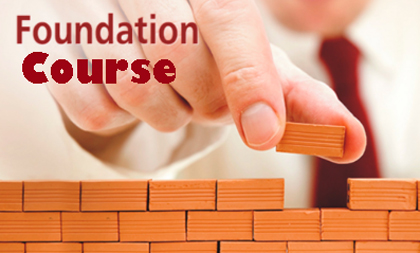 About Foundation Course
Foundation Course is designed to prepare the students for higher education at some colleges and universities in a certain field, for example foundation courses in business, in computer science, in humanities and arts or in science stream. It is mainly conducted in United Kingdom Country. This course introduces a specific subject to the students and prepares them for studying that subject at a higher level. Specifically the foundation course acts as a bridge between the high school educations to its higher education.
Advantages of Foundation Course
On completion of the foundation course to be qualified for higher level of education at colleges and universities.
There is a scope to learn various languages, because the foundation program include languages also.
The candidates can directly approach the educational institution to know more information about various stream subjects and their courses.
Anyone can get relevant qualification for their higher studies.
List of Foundation Courses
Foundation Courses after 10th:
Foundation courses are available for 10th class students in different streams, these courses are helpful them to gain knowledge about various subjects or a single subject relating to their further studies.
School Exam (CBSE/ICSE)
Olympiads
JEE and NEET Foundation
NTSE
Foundation Courses after 12th:
Online Foundation Courses:
There number of online foundation courses are also available for the students who have completed 12th class examinations.
Business Foundation
Foundation in Art and Design
Foundation Studies Program
Foundation Course in Law
Math for Computer Science
Per-Degree Foundation Diploma in Fashion
Foundation in Arts/Science, A levels
Sciences- International Foundation
Foundation in Arts
Foundation Program
Certificate of Attain in Foundation Studies
Business Foundation
Foundation Physiotherapy
Foundation Business Management
Foundation Automotive Design
Other Foundation Courses:
The foundation courses are available for the students in different disciplines, some are as follows.
English Speaking Courses
One to one English
Purchasing Management
International Business
Grammar
Computer Science
Principles of Science
Indian Civilizations
Social and Political Formations
Travel and Learn
Managerial Economics
Online Foundation Course for Engineering:
Those who want to pursue engineering after their 12th, some foundation courses of engineering are available for them. These foundation courses duration is one year. These courses teaches for JEE Main, JEE Advanced, BITSAT, VITEEE, All types of Engineering Entrances.
Online Foundation Course for Medical:
The students want to pursue medical courses after their 12th one year foundation course is available for them through online. It is useful for NEET (AIPMT), AIIMS, and JIPMER entrances.
Career Opportunities:
On completion of foundation courses number jobs available for the candidates. The career opportunities depend on the course type. Some career options of these candidates are listed below.
Educational Institutions
Banks
Engineering Industries
Hospitals
Research Center
Government Sector Organizations
Private Sector