Technology is developing to a large extent. It's making miracles in every part of life. Past back televisions are seen in some places itself. Now they are seen in each & every house. Likewise, computers & mobiles are seen in every part of life. How the changes take place in human life, likewise changes are taking place in technology too. After television, computers spread to a large extent.
Later mobiles and so on. Latest developments in technology is creating a new trend in the entire world. First computers came into existence. Technology is developing and new models are introduced and helping man to work easier. Let us see minimum requirements for learning Computer Courses.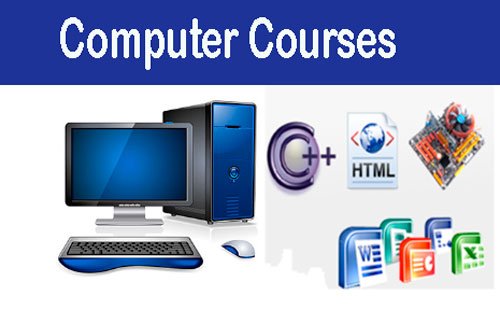 Computer Courses
Computer knowledge is very necessary to do any work. Minimum computer knowledge helpful in securing jobs. So people are striving to secure minimum basic knowledge of computers. Many courses and computer languages are introduced to gain knowledge and survive. Later the internet also playing a crucial role to work efficiently and effectively in an attractive manner and also transfer information from one place to another.
Basic Knowledge of Computers:
A person who completed his basic study (10+2) or a graduate needs a minimum basic knowledge of computers prior to his education. It will be very necessary for him to survive himself to some extent. Various computer training centres are established in each and every village/town/city to provide minimum knowledge of computers by teaching various computer courses depending on the person's requirements. Some of the basic courses which would be helpful to person who requires job are as follows:
Office Packages:
Office packages play a major role in almost all the organizations in the society. Each course have a specified fee for the particular course. They may differ according to the institution or organization. But the minimum fee payable for each course are given below:
Office Packages include:
MS-WORD      MS-POWERPOINT     MS-EXCEL      MS-ONENOTE     MS-VISION etc.
Fees for this package: Rs.1500/- to 2000/-
DeskTop Publishing (D.T.P.): This course is helpful is prepared greetings, invitations, stickers, wedding cards etc. in languages required. PageMaker & Photoshop courses are included in this D.T.P. course. I-Leap & Anu Script Manager are used to make the work in desired/prescribed languages.
Fee for this package: Rs.2000/- to 2500/-
Multimedia Courses: The Multimedia Course will be helpful to the people who are interested in photography. A person can do miracles using this course. Various techniques are used to make changes in photos, video albums either in starting, middle or last. We can also make passport photos using this software. The courses include Photoshop, CorelDraw, visual effects 3d max etc.
Fees for this package: Rs.30,000/- to 40,000/-
Computer Languages: Computer languages are mostly included software languages like C, C++, JAVA, ORACLE, DOTNET, etc. These are used mostly in companies to do the work fast using simple commands.
Fees for this package: Each language may charge a different fee from Rs.2,000/- to Rs.10,000/- depending on the demand of the course.
Hardware courses: Hardware Courses like AUTOCAD etc. comes under this course which is used in the representation of projects, working on electronical or mechanical devices. It is helpful in represent the working of the devices using this software.
Fee charged to this package: Rs.3,000/- to 5,000/-
Accounting Packages: There are various accounting packages available which are useful for maintaining various accounts of various branches like purchases, sales, stock details, tax details, invoice or consignment details etc. These are also useful for maintaining accounts of customers too.The best example for the accounting packages are Tally, Zoho Books, Quick Books Online etc.
Fees charged for this package: Rs.3,000/- to 4,000/-
Conclusion: Finally we conclude that computer courses are very important for gaining good knowledge and helpful even for the survival of life.
Also See: Computer Course after 12th