Master of Business Administration (M.B.A.) is the business management course which helps us in the field of business with various aspects. M.B.A. includes various specializations like Human Resources, Finance, Marketing, Hospital Management etc. Every field has its own identity. So M.B.A. helps us a lot to make our future bright. See the below provided MBA Career options, Job Opportunities, and Salaries after MBA.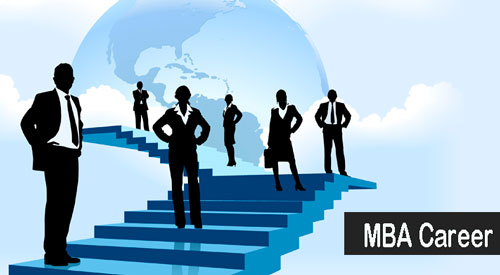 We'll have many doubts that after completion of M.B.A, what is the future? How will be the career? etc. So, for that we are going to provide some information regarding the future after M.B.A relating to different specializations.
MBA Career Options
Career with M.B.A.in Marketing:
Scope: Marketing is the soul of every business organization in the world. Its scope is developed to a large extent. A person who does a Course in marketing can become sales executive or a manager In any reputed companies like HULL etc.
Job Opportunities in Marketing: Marketing is useful in each and every field like entertainment, advertising, hospitals, banking, tourism, etc. It provides employment in IT industry & well-reputed companies.
Salary: A person who is specialized in marketing can obtain salary depending on capacity, experience etc. A good sales executive can gain 35K per month.
Career with M.B.A. in Finance:
Scope: In basic point of view, finance is related to money. Finance is useful to each & everyone in the world. Nothing will be possible without money. So the specialization of finance helps us to make financial planning, control over finance flow etc.
Job Opportunities in Finance: There are good opportunities for a person who opts finance as his specialization. He can good opportunities in both banking & non-banking; government or private sectors because today every organization need a financial advisor. He can have opportunities in departments like:
Asset Management
Treasury Management
Capital Management
Stock Management
Finance Ministry etc.
Salary: A qualified & good skilled finance executive can earn up to 3 to 4 lakhs per year. Sometimes it may change according to the experience, recruiters, location of the company etc.
Career with M.B.A in H.R.:
Scope: This is one of the most important & demanding course. Utilization of resources in the correct way at the correct time is known through this course. Only HR can know the proper allocation of resources, time management etc. So every company appoints an HR for developing the company to a great extent.
Job Opportunities in HR: Being an HR manager is a very difficult role. He settles all the activities in an organization like recruiting employees, paying salary to the employees, maintaining all the records of an organization etc. He plays a key role in the organization. He acts as an
HR Generalist
Staffing Director
HR Trainee
Conflict Resolver etc.
Salary: An HR can earn upto 3-5lakhs per year in a well-reputed company as his role in the company is very difficult. And in some cases, he will be charged according to demand, experience etc.
This is all about MBA Career Options/ MBA Career Path info. For more updates please stay tuned to our site www.aiming.in.