O Level Course Details: DOEACC 'O' level is a most popular course for government jobs. DOEACC is now formally known as NIELIT (National Institute of Electronics & Information Technology). 'O' Level Course is equivalent to a Foundation Level Course in Computer Applications.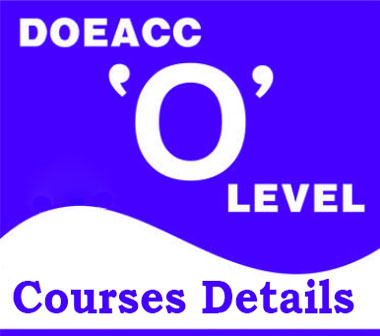 Students can acquire this qualification by undergoing this course and passing the examination organized by the NIELIT Society. Candidates can also appear in this examination, they possess the requisite O Level Courses Eligibility Norms as indicated below.
About DOEACC Society or NIELIT Society:
National Institute of Electronics & Information Technology (NIELIT) previously known as the DOEACC Society. It is an autonomous controlled society under the administrative control of Ministry of Electronics and Information Technology of the Govt of India. The Society is registered under the Societies Registration Act, 1860.
At present, NIELIT has 35 offices located at Agartala, Aizawl, Ajmer, Aurangabad, Calicut, Chandigarh, Chennai, Chuchuyimlang, Churachandpur, Delhi, Gangtok, Gorakhpur, Guwahati, Imphal, Itanagar, Jammu, Jorhat, Kohima, Kolkata, Kokrajhar, Leh, Lucknow, Lunglei, Pasighat, Patna, Ranchi, Ropar (Rupnagar City Centre), Senapati, Shillong, Shimla, Silchar, Srinagar, Srikakulam, Tezpur, Tura with its Head quarters at New Delhi.
NIELIT is one of the National Examination Body in India, which accredits Computer courses in 'O' (Equivalent to Foundation level course), 'A' (Equivalent to Advanced Diploma in Computer Applications), 'B'(Equivalent to MCA Level)  & 'C' level (M. Tech Level) approving institutes organizations for conducting particular course, specializing in the non-formal sector of IT education and training.
The main objective of the Scheme is to develop quality manpower in IT by utilizing the expertise available with the computer training institutes who are granted accreditation for conducting specified Levels of courses, subject to their meeting well-defined norms and criteria.
About 'O' Level Course:
The Ministry of Human Resource Development Govt of India has recognized 'O' level exam conducted by the Computer Society of India (CSI) under the Department of Electronics Accreditation of Computer Courses (DOEACC) Scheme as equivalent to Foundation Level course for the purpose of employment to posts and services under the Central Govt.
In view of the above notification the passed out candidates with 'O' level qualification from the DOEACC Society will henceforth be the eligible for registration in employment exchanges for job assistance.
O Level Course Details of Eligibility Criteria:
Required Qualification:
Students must possess 10 + 2 or ITI Certificate (one year) after class 10 followed in each case by an accredited 'O' Level Course or Successful completion of the second year of a Govt recognized polytechnic engineering / diploma course after class 10, followed by an accredited 'O' level course concurrently during the third year of the said polytechnic engineering diploma course.
A pass in the NCVT-DP&CS (Data Processing & Computer Software) Examination conducted by DGE&T (Government of India).
Students are admitted to the training programmed for 'O' level certificate course of DOEACC Society check the duration, timings and fee details.
Duration: One Year (Two Semesters).
Timings: The classes for these training programmes are held in the afternoon during 2:00 P.M to 6.00 P.M.
Selection: On the basis of past academic merit.
Course fee: Rs.3000/­ per semester + Rs.2000 for Project work.
DOEACC O Level Syllabus
The syllabus for 'O' level has been diversified.
Three compulsory module and,
One elective module.
In the diversified syllabus, new subjects have been added as electives and certain amendments have been made to the syllabus on some of the subjects.
O level Course details of Syllabus:
IT Tools and Business Systems.
Internet Technology and Web Design.
Programming & Problem Solving through 'C' Language.
Application of .NET Technology (Elective).
Introduction to Multimedia (Elective).
Introduction to ICT Resources (Elective).
O Level jobs in India:
The candidates can apply for the following type of jobs.
Jobs in Neyveli Lignite Corporation Limited (NLC) for Hindi Translator.
Walk-in for the posts of Assistant Professors in various subjects in Panjab University.
Jobs at Gautam Buddha University for the posts of Professor, Associate Professor and Assistant Professor.
Jobs in Lok Sabha Secretariat for Parliamentary Interpreter and Hindi Assistant.
Vacancies for Teaching posts in National Institute of Technology, Silchar.