About CSI: Computer Society of India is the first organization comprising largest body of computer professionals in India which is started on March 6, 1985 by a few computer professionals. The wide spectrum of members is committed to the advancement of theory and practice of Computer Engineering & Technology Systems, Science & Engineering, Information Processing and various Arts & Science related courses. Recently the growth of the Computer Society has extended and said to be a national body representing computer professionals.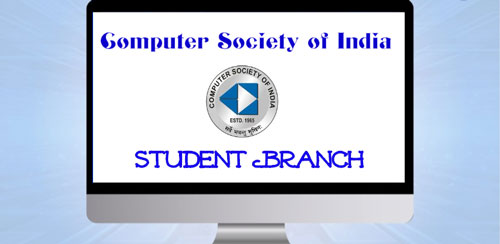 Under the leadership of Professor Rangaswamy Narasimhan, the first President, CSI has attained global affiliation with International Federation for Information Processing (IFIP) since its inception in 1965 and India attended the IFIP Council meeting. After becoming member of IFIP, CSI has organized many sponsored events of IFIP and acted as host to 1978 IFIP Council meeting in Mumbai and General Assembly in New Delhi and later India is represented as a promoted as a member of technical committees and working groups of IFIP.
CSI is a non- profit professional organization meet to exchange views, information and share ideas. It encourages and assists professionals to maintain integrity and competence of the profession and fosters of partnership amongst the members. It facilitates research, learning, knowledge and career enhancement among all categories of computer professionals. It inspires and assists students to integrate into IT community and sieves the benefits of IT advancement to all sections of Indian Society.
CSI events:
Discounted registration fee for CSI conventions & seminars
Participation in joint events of CSI with its MOU partner / Organization
Now let's look for the courses offered by Computer Society of India.
CSI Courses
Computer Society of India offers various courses for students to attain a good career. Some of them are as follows:
Master of Business Administration Courses (MBA)
Bachelor of Technology Courses (B. Tech)
Master of Technology Courses (M. Tech)
Research & Development Courses
Professional Courses