Information about Doeacc Courses: Department of Electronics and Accreditation of Computer Courses is the full form of DOEACC.  It is autonomous scientific society. There are various courses offered by DOEACC. These will be offered in various levels. Here is the article which provides you the complete information about Doeacc Courses Details such as Fees, Courses, Levels, and Duration etc.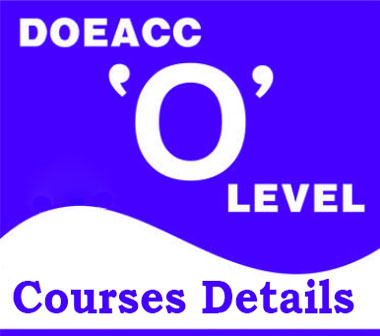 Doeacc Courses List:
DOEACC is an autonomous scientific society which will be run under Indian Ministry of Communications and Information Technology. It involves training, consulting, product development, entrepreneurship and human resource development in information, electronics & communication technologies. Five computer courses are offered by Doeacc.
In these 4 are levels and one other course.
O Level
A Level
B Level
C level
Bio-informatics and hardware.
O Level: This is equivalent to Diploma. There will be 4 papers in this O Level Course.
A Level: This is equivalent to Advanced Diploma in Computer Applications. There will be 10 papers in this course.
Eligibility: O level/ Undergraduate/ graduate
Duration:  1 year
Fee: Rs 15,000/-
B Level:  Those who have completed B Level will get eligibility to do Master of Computer Applications is a desirable qualification.
For those who are about to do B level after A level, there will be fifteen papers, for students doing B level directly, there are 25 papers.
Duration: 3 years (after graduation) and 2  years after A level.
Fee: Around 50K
C Level: It is equivalent to M.Tech Level.
Eligibility: No particular requirement to do this course.
Just basic knowledge is expected.
Syllabus: here we are providing the course structure of O level.
| | |
| --- | --- |
| Module Code | Topics |
| M1-R4 | IT Tools and Business System |
| M2-R4 | Internet Technology and Web Design |
| M3-R4 | Programming and Problem Solving through "C" |
M4-R4  We can choose any of the below modules:
Application of .Net Technology/ Introduction to Multimedia/ Introduction to ICT Resources/ Practical (Based on M1, M2, M3, M4 module syllabus)
Courses in Kolkata:
The top colleges which offer Doeacc courses are :
Vivekananda College, Kolkata (West Bengal)
Acharya Prafulla Chandra College Computer Centre, Barrackpore
Ashutosh College of Computer Centre, Kolkata
Bidhan Chandra College Computer Centre, Hooghly
Bijoy Krishna Girls College, Howrah
Certifications:  
There are various certification courses available for Doeacc. Go through the official website for more details.
Website:  
Here is the link of official website for Doeacc http://www.nielit.gov.in/
This is the complete article about Doeacc Courses Details. We hope that this article helped you in providing the required information.
Bookmark our site for regular updates and stay connected.