Information about Creative Writing Courses: Creative writing is a process of writing which goes out of normal, Professional writing. This involves Creative Thinking, Interesting presentation etc. There is the requirement of creative writers in many fields. So the demand increased. So, here is the article which provides you the complete information regarding Creative Writing Course Details such as Online Courses, Eligibility Criteria, and Fee Structure, etc.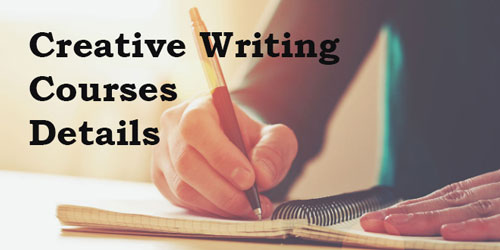 About Creative Writing:
Creative writing is nothing but writing in the way other than professional and technical but also attracts audience and readers. Creative Writing includes various types such as:
Poetry
Plays
Personal essays
Memoirs
Speeches
Movie and television scripts
Fiction (novels, novellas, and short stories)
Songs
There are some techniques need to followed to become a creative writer. Those are stated below just have a look.
Character development
Anecdotes
Dialogue
Emotional appeal
Figures of speech
Heavy description
Imaginative language
Metaphors and similes
Plot development
Vivid setting
Underlying theme
List of Creative Writing Course:
Here is the list of various courses available in Creative Writing Course.
Ignite your everyday creativity
English for Journalism
Creative writing
Creative innovation Change
English Composition
Song writing lyrics
Creative problem solving
Transmedia writing
Creative writing- The craft of character Etc
Eligibility Criteria:
The eligibility criteria to become a creative writer are 10+2 or higher secondary.
Fee Structure:
The fee structure for Creative Writing depends on institute and Faculty. We suggest to go through the official site.
Courses Online:
There are various online courses provided by various websites.  Some courses are provided for free. Here are they
Writing and Reading the Essay
Writing and Reading Short Stories
These Online Courses help us in learning as per our Comfort and they also provide materials and certifications.
Distance Learning:
We can do distance learning courses even through Distance learning. Some of the courses offered that can be done through Distance learning are:
Program Information and Requirements
Master of Fine Arts in Creative Writing
Poetry
Fiction
Creative nonfiction
Children's literature
Creative Writing Course Syllabus:
The syllabus for creative writing is differed. We will try to find it out and provide it very soon. Please wait with patience.
Creative Writing Courses in London:
The list of Top Colleges and Universities in London are provided here.
Creative Writes, London
Faber Academy, Bloomsbury, London
City Literary Institute
London School of Journalism
This is the complete article about Creative Writing Course Details, please go through it to find out all details and information.
Bookmark our site www.aiming.in and stay connected.