YCMOU Courses Details: All about YCMOU Admissions eligibility, Entrance Exam, Online Registration, Syllabus, Fee Structure etc available for upcoming academic session. A large number of students around all over India are eagerly waiting to apply Courses of YCMOU regular and distance education examinations.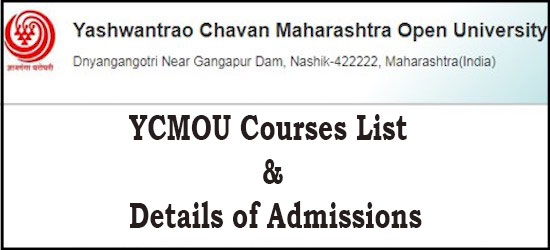 Candidates who want to join in the Yashwantrao Chavan Maharashtra Open University can check the List of YCMOU Courses available and its eligibility criteria. Also Download Complete Prospectus for YCMOU Open University Time Table from this page.
List of YCMOU Courses
Yashwantrao Chavan Maharashtra Open University offers lot of courses in Science (B.Sc & M.Sc), Arts (B.A & M.A), Commerce (B.Com & M.Com) , Vocational (Diploma, Certificate & PG Diploma) and Professional (MBA, MCA, B.Arch, M.Arch, B.Tech, M.Tech, B.LI.Sc, M.LI.Sc, BJMC, MJMC, Law, BSW, MSW, B.ed and M.ed) through distance learning
Currently it has released YCMOU Admissions Notification and Application Form for various UG & PG degrees such as B.A, B.Sc, B.Com, B.Ed, M.Sc, M.A, M.Com, M.Ed, M.Phil, BBA, BCA, MBA, MCA Degree Semester & Annual Examination at the YCMOU University official website i.e. ycmou.digitaluniversity.ac. Students need to select your degree of the course and enter your credentials to download your application from the listed below links.
About YCMOU University:
YCMOU abbreviated as Yashwantrao Chavan Maharashtra Open University, Nashik. YCMOU was established in July 1989 by Act XX- (1989) of the Maharashtra State Legislature to provide education in under-graduate, post-graduate, doctoral degrees. The YCMOU has been recognized under section 12 (B) of the University Grants Commission Act, 1956. Nearly 6,50,000 students are studying under this university.
The University offers the Certificate Courses, Diploma Courses, Undergraduate Degree Courses, Postgraduate Degree Courses, and Research / Doctoral-level Courses. It also provided nearly 100 distance education courses.
Eligibility for YCMOU Courses may differ course to course as well as institute to institute.
Here you can also get YCMOU Open University Time Table/Date sheet annually from this web page and prepare for their assessment program according to that list.
List of College/ Institute for Courses of YCMOU
| | | | |
| --- | --- | --- | --- |
| Study Center Name | Parent Body | Address | Pin Code |
| (M.E.S.A.M.'S) PARASHURAM HOSPITAL LOTE [Ratnagiri] | | GHANE KHUNT, District – Ratnagiri, Taluka – Ratnagiri, State – Maharashtra | 111111 |
| (NYSSE)DATTA MEGHE INST. OF MANAGEMENT and RESEARCH [Nagpur Rural] | | POLY. CAMPUS, District – Nagpur, Taluka – Nagpur Rural, State – Maharashtra | 440022 |
| A. V. E. W. College of Education [Sinnar] | Government | At/p- Agaskhind, Tal- sinnar, District – Nashik, Taluka – Sinnar, State – Maharashtra | 111111 |
| A.E. KALSEKAR DEGREE COLLEGE [Thane] | University | NEAR BHARAT GEAR FACTORY, POST. -DAWLA, KAUSA, District – Thane, Taluka – Thane, State – Maharashtra | 400612 |
| A.R. BURLA MAHILA VARISTHA MAHAVIDYALAYA [Solapur(n)] | Government | 213, SAKHAR PETH, ASHIKAL MAIDAN, District – Solapur, Taluka – Solapur(n), State – Maharashtra | 413005 |
| A.S MANDAL C/O SANCHLIT ARTS and COMMERCE COLLEGE TRUST [Taloda] | | | 425416 |
| A.S.C.COLLEGE, [Panvel] | Government | POST BOX NO.124 PANVEL, District – Raigad, Taluka – Panvel, State – Maharashtra | 410206 |
| A.V.E.W. College of Education [Sinnar] | | A/P-Agaskhind Tal-Sinnar, District – Nashik, Taluka – Sinnar, State – Maharashtra | 422502 |
| AABAD ARTS, LODHA COMMERCE AND S.P.D. SURANA COLLEGE [Chandwad] | Government | Neminagar, Chandwad, District – Nashik, Taluka – Chandwad, State – Maharashtra | 423101 |
| Aadarsh Arts and Commerce College [Hingoli] | Government | akola road, District – Hingoli, Taluka – Hingoli, State – Maharashtra | 431513 |