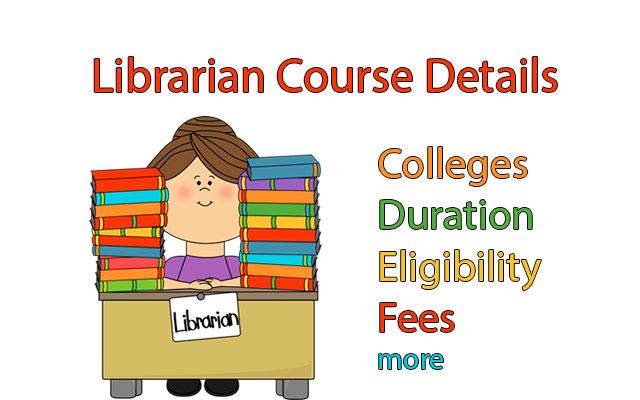 Librarian Courses Details: Hi viewers!! For your sake here we provide the info of how to become a Librarian and its required education qualification. So if you are searching for Librarian Course Online information then we are glad to inform you that your search ends here. Find the information about Librarian Course Details, list of top and best Librarian Courses colleges in India, eligibility, admission, fee structure etc from here.
If you are thinking about becoming a librarian, there is a range of Librarian Course Online available that will provide you with the skills you need. By studying Librarian Courses and information services, you will learn the fundamentals of librarianship, including subjects such as cataloguing and circulation, digital media, collection development and acquisitions. There are also postgraduate courses available for those who are studying at a more advanced level.
About Librarian
Today a librarian is also entitled as "Information Manager", "Cybarians" and "Information Scientists".
A librarian is a person who works professionally in a library, providing access to information and sometimes social or technical programming.
In addition, librarians provide instruction on information literacy.
The field offers many opportunities for aspiring librarians to concentrate their learning and career goals in a specific area. The following section touches on a few of the specific types of libraries where a graduate may elect to work.
Special Collections Librarian.
Law Librarian.
Reference Librarian.
School Librarian.
Medical Librarian.
Technical Services Librarian.
Librarian Course Details of Eligibility 
After 12th class you are not eligible for build Career as Librarian.  Those who have pursued a bachelor's degree in any discipline can join this Librarian Courses. So, after bachelors in any course only, you can apply for this course.
Librarian Course Duration & Classes
The Librarian Courses is a full time course of one academic year. The classes are normally held in the evening (4 PM to 7:20 PM in Monday to Friday and in the afternoon in Saturday). The number of hours, time and the dates of the beginning and end of academic session shall be determined by authorities from time to time and shall be notified accordingly.
Librarian Course Admission Procedure:
Some famous colleges do conduct their own entrance exams in order to choose top class candidates for the Librarian Course. Admission however, strictly depends upon the percentage of marks scored in the entrance examination. Selected aspirants will however be notified by the Institutes of their admission.
Courses offered in LIS (Library and Information Science) are
Certificate course in Library and Information science (CLISc or CLIB).
Diploma course in Library and Information Science (DLISC or DLIB).
Bachelor in Library and information science (BLISC or B.LIB).
Master in Library and information Science (MLISC or M.LIB).
Phil in Library and Information science.
D in library and Information Science.
Colleges offering Librarian Course are:
Alagappa University, Karaikudi.
Aligarh Muslim University, Aligarh.
Allahabad University
Annamalai University, Annamalainagar.
Awadhesh Pratap Singh University, Rewa.
Babasaheb Bhimrao Ambedkar University, Lucknow.
Banaras Hindu University, Varanasi.
Bundelkhand University, Jhansi.
Devi Ahilya Vishwavidyalaya, Indore.
Bhim Rao Ambedkar University, Agra.
Harisingh Gour Viswavidyalaya, Sagar.
Gulbarga University, Gulbarga.
Guru Ghasidas University, Bilaspur.
Guru Nanak Dev University, Amritsar.
Harisingh Gour University, Sagar.
HNB Garhwal University Srinagar – Garhwal.
Jadavpur University, Calcutta.
Jamia Millia Islamia, New Delhi.
Jiwaji University, Gwalior.
Karnatak University, Dharwad.
Jamia Millia Islamia, New Delhi.
Kurukshetra University, Kurukshetra.
Nagpur University, Nagpur.
North Eastern Hill University, Shillong.
Pandit Ravishankar Shukla University, Raipur.
Panjab University, Chandigarh.
Patna University, Patna.
Punjabi University, Patiala.
Rani Durgavati Vishwavidyalaya, Jabalpur.
Career Prospects of Librarian/ Career as Librarian:
Hierarchy of the profession that largely depends upon the duration of the job experience and to some extent qualification one have is:
Assistant Librarian.
Deputy Librarian.
Librarian.
Chief Librarian.
Employment Outlook and Salary Information:
Librarian positions are expected to increase 2%, slower than average, between 2014 and 2024. Limited government funds have influenced the slow job growth rate for librarians.
Librarian salary ranges between Rs. 16,000 to Rs. 30,000 per month depending upon the institute one is working in. However it is sure that those working in private organizations have more salary than those who are employed in government employees.
Librarian Certificate Course Fee Structure:
Tuition fee @ Rs. 200/ – per month: Rs. 2400/ –
Admission fee: Rs. 100/ –
Departmental Library & Workshop fee: Rs. 100/ –
Session Charge: Rs. 44/ –
Total Fee: Rs 2644/ –