Fashion Designing is one of the best paying industry today. With the extreme competition of the other fields, the scale of its scope and opportunities never drop down. Fashion design is an art applied to the designing of clothing and lifestyle accessories. It encompasses a vast field of studies in design, concept management, printing, design production management, fabric design, color mixing, Marketing and so on. Here we are providing Fashion Designing Career, Jobs, Salary and Fashion Designing Course Information.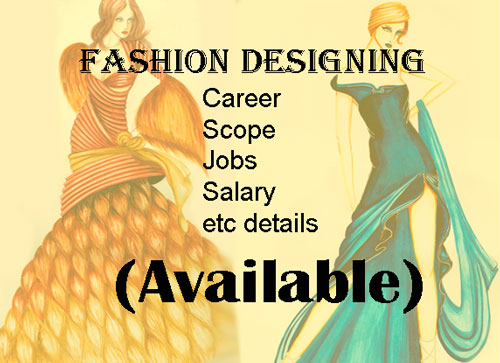 Importance of Fashion Designing:
Fashion designing involves the creation of new designs for garments and accessories to meet the needs of the people with the change of Trend. This course can cover wider areas of design in the field of jewellery, accessories, footwear, and luggage etc. Fashion designing is influenced by cultural and social attitudes. The Fashion designing industry is ever growing a field of economy and its growth is the proof of the ever expanding opportunities in the fashion industry.
Duration of Fashion Designing Course:  
B.Sc. Fashion Designing is a three years duration course. Fashion designing syllabus is divided into six semesters. This course is job oriented course when compare with the other fields.
Eligibility Criteria:
The Candidates should complete their 10+2 with Science stream.
Any person should also need to go an aptitude test to seek admission for the course.
It is compulsory that the Candidates should complete their intermediate with 50 percent marks.
Syllabus of the course:
Semester 1:  Essential and Applied language Skills
Design Concept
Basic Textiles
Elements of Design
Fashion model Drawing
Semester 2:  Computer Applications
Introduction to Fashion
Fabric Manufacturing
Textile Craft
Material studies
Semester 3: Environmental Studies
Indian Textiles
Dyeing & Painting
Fashion Illustration
Seminar
Semester 4:  Fashion Marketing
World Custom Advance Fashion Illustration
Advance Fashion Illustration
Home Textiles
Pattern and Construction making
Semester 5:  Fashion Retailing
Fashion Communication
Fashion Accessories
Intership
Line Development
Semester 6:  Garment Machinery
Quality control & Production
Draping & Grading
Fashion Research
Fee Structure:
Some of the Top Fashion Designing Institutes are given below with their fee structure:
National Institute of Fashion Technology and the fee collected from you for the course is around 40,000 per semester.
National Institute of Design and the fee for the course is around 1, 16,800 per annum.
JagaNath Institute of Management Science and the fee will come to around 80,000 per annum.
Satyam Fashion Institute and the fee will come to around 60,000 per annum.
Job Profiles: 
Fashioner Designer
Fashion Merchandiser
Ethnic Wear Designer
Textile Engineer
Beauty/ Fashion junior Editor
Frontend Developer
Backend Developer
Accessory Designer
Jewellery Designer
Fashion Designing Career:
The fashion designing career starts as a trainee designer after the completion of the courses and later the students can reach the high stage fashion industry with their talent. Creative mind with excellent talent in making sketches and choosing colours suitable for the need are important elements for the designers who want to reach the good position in the fashion field.