The Bachelor of Commerce Course can be pursued either full-time graduation course or part time course through correspondence or Distance Education depending upon student's choice. The BCom Course provides with a wide range of managerial skills and knowledge in a particular area of commerce.
This degree makes the students to gain knowledge about accounting principles, import and export laws, economic principles and other aspects that impact trade and business.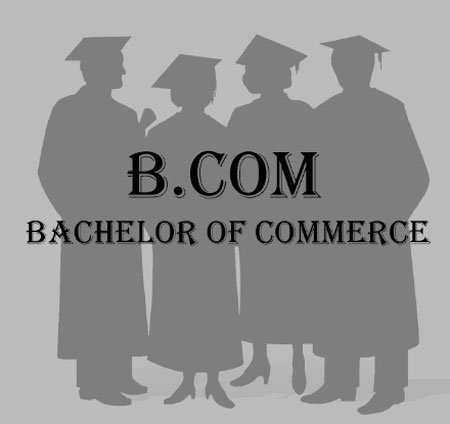 Scope and Importance of Bachelor of Commerce
Bachelor of Commerce course has become an essential qualification for business. It is a pure financial and technical degree. B.com is the degree which provides more information to the students about commerce and trade.
Every student can gain knowledge about advance taxing, financial management etc. B.com mainly deals with Accounts and business economics. The B.com course prepares you for a career in Accounting, Banking, Financial management, Information system and management etc.
The B.com will help the students to improve their skills and to learn and will provide you with the opportunity to develop the networks through real world experiences.
This course focuses on the factors that drive economic behaviour at both an individual and organizational level.
This course will prepare the students with the analytical, communication and problem-solving skills.
Specialization Types of B.Com
B.com – Computer Application
B.com – General
B.com – Tax Procedure
B.com – Advertising & Sales Management
B.com – Foreign Trade
B.com – E- commerce
B.com – Honors
B.com – Logistics
B.com – Office Management
BCom Career
B.com graduates can continue their higher education post-graduation courses like Master of Business Administration or Master of Commerce.
See Complete Career Options after B.Com
This degree graduates can employ in many fields. The fields are as follows:
Banks
Foreign trade
Business Consultancies
Educational Institutions
Budget Planning
Investment Banking
Marketing
Merchant Banking
Public Accounting firms
Working Capital Management
Industrial Houses
Duration of B.com
The duration of this course is three years.
Eligibility Criteria
Applicants who have apply for this course must be completed their 12th class. The students who have studied commerce in 10 +2 are given preference over others. Applicants must score minimum marks as per requirement of the college to apply for the admission.
Syllabus of B.Com
First Year Syllabus
Foundation Course
Environmental Studies
Mathematical and Statistical Studies
Accounting and Financial Management
Commerce
Business Economics
Business communication
 Second Year Syllabus
Foundation course
Business Law
Accounting and Financial Management
Applied Component (Economic system / Computer programming)
Commerce
Business Economics
 Third Year Syllabus
Financial Accounting and Auditing
Business Economics
Commerce
Cost and Management Accounting
Corporate Accounting
Direct and Indirect Taxation
Export Marketing
Computer Systems and Applications
Tops Colleges and Universities in India for B.com course
Shree Ram College of Commerce – New Delhi
Loyola College – Chennai
Christ University – Bangalore
Hindu College – New Delhi
Xavier's College – Mumbai
Symbiosis College of Arts and Commerce – Pune
Nizam College – Hyderabad
HR College of Commerce and Economics
Ethiraj College for Women – Chennai
Gargi College – New Delhi
HL College of Commerce – Ahmedabad
ST Xavier's College – Jaipur
Job Profiles
The common job profiles for BCom job holders are as follows
Business Consultant
Budget Analyst
Auditor
Cost Estimator
Certified Public Accountant
Chartered Management Accountant
Stock Broker
Finance Manager
Also refer Courses after B.Com