As we all know that everything in the world and universe itself is filled with science. In the past, the people are unable to realize this fact. Later various scientists came to know the fact by performing various experiments and created awareness to the people. After several inventions & discoveries, most of the people are aware of changes taking place around them. And from that time every person is getting educated to attain knowledge regarding various sciences in and around him. In this article, you can read complete details about BSc Physics Course and its requirements info.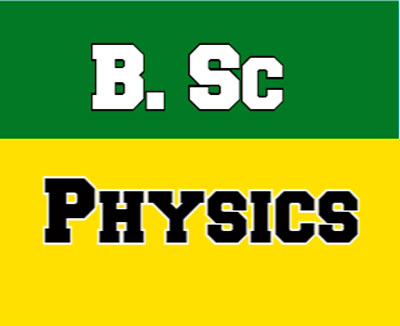 Branches of Science:
Science deals with various branches in our society. They are:
Physical Sciences – Deals with physics, chemistry, and astronomy.
Earth Sciences – Deals with Geology, Paleontology, Oceanography & Mereorology.
Life Sciences – Deals with botany, zoology, medicine, and genetics.
About Physics:
Being a part of physical sciences, physics is defined as "The science dealing with various experiments, measurements and mathematical analysis for the purpose to study the behavior of an object with its related concepts such as energy and force".
Branches of Physics:
Branches that deal with physics are as follows:
Classical mechanics.
Thermodynamics and statistical mechanics.
Electromagnetism and electronics.
Relativity
Quantum mechanics.
Optics, and atomic, molecular, and optical physics.
Condensed matter physics.
High energy/particle physics and nuclear physics etc.
B.Sc. Physics:            
There are various courses introduced for sciences with various combinations. Among them B.Sc. Physics is the one. Let's see what the subjects in this course are.
Subjects:            
Subjects of this course are for three years are:
Classical Mechanics & Theory of relativity
Electricity Magnetism & Electromagnetic Theory
Properties of Matter & Kinetic Theory of Gases
Semiconductor Devices
Computer Programming & Thermodynamics
Wave and Optics 1
Statistical Physics
Wave and Optics 2
Quantum and Laser Physics
Nuclear Physics
Solid State and Nano Physics
Atomic and Molecular Spectroscopy
Physics Lab
Eligibility Criteria:
The eligibility criteria for this course is 10+2 with subjects Mathematics, Physics, Chemistry and English.
Duration of the Course:               
The duration of this undergraduate course is completely 3 years.
Fee allotted for the course:       
The average fee for this course is around Rs.30,000/- and may vary according to the universities.
Combination with this course:                 
Some of the combination courses with B.Sc. Physics are:
B.Sc. Physics with Mathematics
B.Sc. Physics with Chemistry
B.Sc. Physics with Biotechnology
B.Sc. Physics with Economics
B.Sc. Physics with Mathematical Finance etc.
Top colleges for BSc Physics course:
Following are the list of top colleges for BSc Physics Course
Stephen's College, NewDelhi
Loyola College, Chennai
Dera Natung Government College, Itanagar
Lady Kaene College, Shillong
St, Xavier's College, Kolkata
Anugrah Narayan College, Patna etc.
Advanced Courses:        
M.Sc Astrophysics
M.Sc Electronics
M.Sc Geophysics
M.Sc Medical Physics
M.Sc Nuclear physics
M.Sc Physics
M.Sc Physics
Career after BSc Physics Course:              
The jobs related to this course may be ass follows
Lecturer for Physics
Technical Assistants in MNC Company
Technical Advisors
Air Hostess
Team developers
Automobile Engineers etc
Salary packages:              
Usually the salary package depends upon the nature of job and demand of the job in any firm or organization. Basic salary for jobs relating to this course may start from Rs.20,000/-.
Top companies that provide placements:           
Top company placements for this course are:
Bharat Heavy Electricals Limited (BHEL)
Hindustan Computer Limited (HCL)
Bharat Electronics Limited (BEL)
Steel Authority of India Limited (SAIL) etc.
Also Check List of UG Course Details