Graphics are required for us in our every day's life. And it is something which drives advertising and attracts us to different brands. Graphic design makes looking good. It allows you to make a positive first impression on those looking on. Usually, the graphic design is done by professionals who are creative and have passion about getting your unique message to create a brand position in the market place. Diploma in Graphic Design Course details are given below.
What is Graphic Design?
Graphic design is the art or skill of combing text and pictures in advertisements, books or magazines. This graphic design is sometimes called as Communication design. It enables more effective storytelling, designers work a standardized tool kit of options that which have been shaped by psychological studies of human behavior. Graphic design is an important tool that enhances how you can with other people. And it is the process of visual communication and problem solving using one or more of photography, typography, and illustration.
Role of Graphic Designer:
The specialists in this field are known as Graphic designers. A graphic designer is responsible for arranging and using elements on different types of media such as a poster, a package or a website with the use of graphics software programs like Adobe Illustrator, Photoshop or InDesign. They create and combine symbols, images, and text to form visual representations. Each graphic designer applies his or her own creative genius to develop a specific work product that meets a particular client's needs. The professional designers consider some elements are given below.
Shape: Shapes speak to audiences in different ways. For example Ovals sign tend to be welcoming whereas square shapes present a tidier appearance.
Texture: Ink on paper gets just the job done, but adding nonstandard elements like fabric or embossing offer a good experience that influences the audience's perception of the design as a whole.
Color: Colors are directly influencing the audience's emotional engagement with a designed piece.
Type: Typography means the selection and sizing of specific typefaces and it can convey meaning of the message designed by the graphic designers.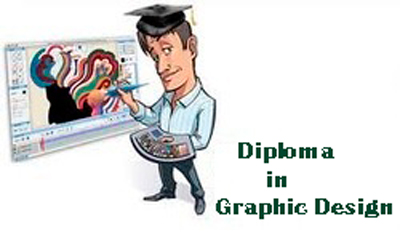 Diploma in Graphic Design Course Details
Diploma in Graphic Design course is a diploma level Animation, Multimedia, and Gaming course. This course covers the professional field of graphic design which deals with the combining of pictures and text in advertisements, magazines, and books. It develops the creative and practical skills of the students to work as a professional graphic designer.
Duration of the Course:
The duration time to complete the diploma in Graphic design course is one year.
Eligibility Criteria:
The basic eligibility for the candidates to pursue this Diploma in Graphic Design Course is class 12th.
Important Subjects:
Typographic Design
Digital Publishing
Computer Studies
Visual Communication
Introduction to Computer Animation
Multimedia Authoring
Web Design
Drawing as basis for 2D and 3D Animation
Team Management
Live Project
Music & Effects Film
Flash & Scripting for the web
Generic Skills
Sound Principles
Industrial Training
Online Diploma Courses in Graphic Design:
Here we are providing you some of the online Diploma courses in Graphic Design.
Diploma in Graphic Design, Animation, Multi Media and Web Pages
Diploma in Graphic Design & Foundation for Design
Diploma in Graphic and Digital Design
Level 1 UAL Diploma in Art & Design
Diploma in Game Development & Design
Advanced Diploma in Graphic Design & Web Development
Double Diploma in Graphic Design & Multimedia
Diploma in 3D Modelling Animation & Design
Diploma in Advertising and Graphic Design
Fee Structure:
The fee structure depends on the course type, duration, and demand for the course. There will be rise of the fee is based on the institution.
Top Diploma Graphic Design Colleges in India:
Let's View the top Diploma Graphic design colleges in India.
Big Boxx Academy, Chandigarh
Pearl Academy, Jaipur
Academy of Animation and Gaming, Gurgaon
Ezetrix Institute of Gaming and Animation, Pune
Crea School of Digital Arts, Mumbai
Arena Animation, Calcutta
Dream zone School of Creative Studies, Bilaaspur
Graphic and Web Design Training Institute, Bangalore
Career and Job Prospects:
Graphic design plays an integral part for any business to grow. It gives customer a memorable picture about your products/ services. Customer satisfaction is one of the reason today the demand for this field is increasing in India. Professional Graphic designers are required in so many industries like Print industry, Web designing industry and Advertisement Industry etc. New graphic designers must have knowledge tools such as Photoshop, Flash, Dreamweaver, Gimp, Blend and more. Some of the job roles of the Diploma graphic designers are discussed below.
Advertising Art Director
Multimedia Programmer
Teacher
Packaging Designer
Creative Director
Editorial Designer
Head Graphic Designer
Corporate Identity Designer
Best Graphic Designing Recruitment Companies:  
PM Communication, Ahmedabad- Gujarat
Ishan Khosla Design, New Delhi- Delhi
Ayushmaan Designs, Chandigarh- Punjab
Krish Indian Design, Bangalore- Karnataka
Vivid Design Consultants, Hyderabad- Telangana
Graphic Design Agency, Mumbai- Maharashtra
Also Check Complete Graphic Designing Course Details