Career In Photography: This is the article Photography Course Details, in our previous post we wrote about Courses that are available in Delhi for Photography. In this article we are providing details like Photography Courses List, Top Institutes, Eligibility, Fee, Syllabus, Jobs, Salary and Career etc. Read the complete article to get all the required Information.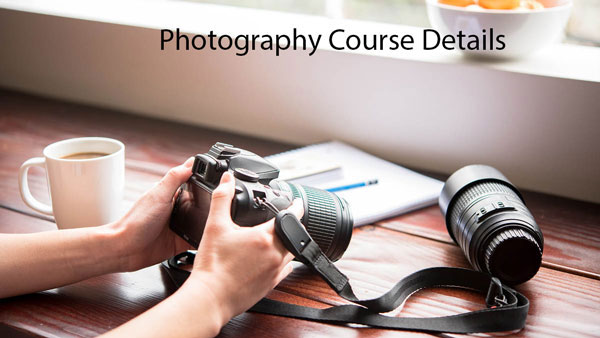 About Photography Course
Photography is an art of creating, capturing and recording memories, recording light or other electromagnetic radiation, either electronically by means of an image sensor. Creating wonders with camera is photography. It is one of the best emerging fields. Candidates search for Photography Course Details and Best Institutes to do the course. Go Through the article below.
Career In Photography
The Courses in photography have many types such as Basic, Certification, bachelors etc.  For basic Course, there is no Requirement. To do Bachelors or Certification Courses the Eligibility is 10+2.
Types of Courses:       
In photography there are many Types of Courses They are:
Basic Photographic Courses
Beginners
Travel Photographic Courses
Fashion Photographic Courses
Advanced Photographic Courses
Land scape Photographic Courses
Portrait Photographic Courses
Wedding Photographic Courses
Journalism Photographic Courses
Part Time Photographic Courses etc.
Certification will be provided for these Courses after the Completion.
Topics covered in These Courses are:
Art of Photography
Visual Aesthetics
Rules of Composition
Different Scene modes in digital cameras to take various kinds of shot
Photo Review
Exposure control with Manual exposure mode, Aperture Priority, Shutter Priority, Programmed Auto, Scene Modes
Exposure Triangle
Aperture
Shutter
ISO
Depth of Field
White balance and EV
Photo Review
IMAGE EDITING
Image formats
Raw Processing
Filters
Basic image adjustments
Adding and removing elements like watermark
Photo Review
STUDIO
Introduction to Studio Equipment
Flash/Strobe Synchronisation
Creative Lighting techniques
Practicing Product, Fine Art and Portrait Photography Certification
Fees Structure:  
The Fee will be around 15k To 20k .
Syllabus for Photography Course:
The syllabus is Different for various courses like Diploma, Certification, Masters, Bachelor's Degree etc.
Go through the link for Certification Course Syllabus
https://drive.google.com/file/d/0B8tCdLLOobDoRFJqZEdid3h4dUE/view?usp=sharing
Hope This article provides you with all Best Photography Courses Details. Select the best type and learn and create wonders with Camera. Best of Luck Friends.