About KSOU: KSOU stands for Karnataka State Open University was established on 1st June, 1996 in the state of Karnataka with a view to promote the system of Distance education in the state of Karnataka. The University has its headquarters in Mysore. The university was established with the objective to provide distance education for the people who cannot attend full-time or part-time education courses of Karnataka State.
KSOU provide opportunities for the working professionals who cannot afford full-time education to attain degrees and diplomas. This university set up its origin as the Institute of Correspondence Course under University of Mysore. The university offers various undergraduate, diploma and post-graduation courses under distance learning.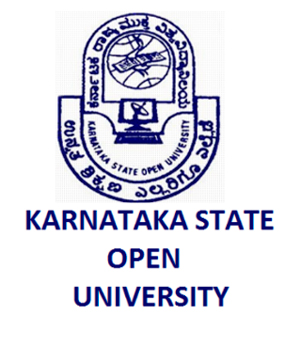 KSOU Recognition
Recognition is the power of obtaining license for providing services to the society. Karnataka State Open University which is established on 1st June 1996 gained recognition from various organizations nationally and internationally. Let's view some of the organizations which awarded recognition to KSOU.
Association of Commonwealth Universities (ACU), London
Asian Association of Open Universities (AAOU), China
Commonwealth of Learning (COU), Canada
District Education Council (DEC), New Delhi
Association of Indian Universities (AIU), Delhi
KSOU – UGC
Karnataka State Open University granted recognitions from all organizations except from University Grants Commission (UGC) because of offering courses violating jurisdictions and essential guidelines of Universities. For that, UGC had not granted recognition and the university ran into loss for many years. Later the Vice – Chancellor of KSOU, D. Shivalingaiah has set up all the requirements and conditions of the university that are to be fulfilled by UGC and the additional Chief Secretary Bharath Lal Meena has submitted a letter to UGC Chairman seeking permission for admission of students to the courses and awaiting for the permission from UGC.
KSOU Latest News
The latest news regarding Karnataka State Open University are as follows:
KSOU authorities filed a complaint against employees (6 no's) of State Health Department for creating fake marks cards.
The Vice- Chancellor, D. Shivalingaiah stated that he has submitted all the details that are demanded by UGC authorities and hoping for positive response from those authorities before June to begin the admissions.
CID team is probing the irregularities of Karnataka State Open University and started a probe in the case and started interrogation for all seven accused including former Vice-Chancellors K.S. Rangappa and M.G. Krishnan.
The Karnataka High Court granted stay with regards to further proceedings in pursuance of the criminal case that is registered against Prof. M.G. Krishnan, former Vice- Chancellor of KSOU.
KSOU News Website
Karnataka State Open University created a news website "@KSOU_NEWS" in Twitter to know all the updates and news regarding the University. They also update the news almost day- to – day activities that are done to seek admission from UGC and some other news in the form of tweets.